PureSpelt chocolate pine trees
for 60 biscuits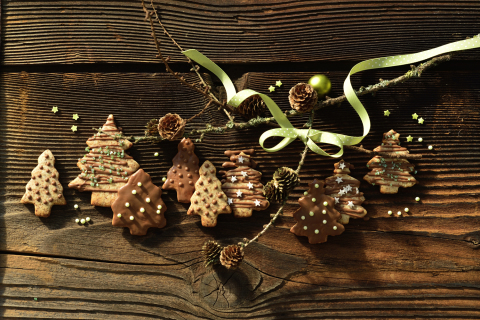 Dough
200 g of butter, soft
175 g of sugar
1 pinch of salt
2 eggs
50 g of dark chocolate, finely grated
350 g of PureSpelt half-white or white flour
50 g of Paidol (a type of very fine durum wheat semolina which helps the dough to rise).
Decoration
1-2 bags of cake glaze, each 125 g, melted according to the instructions on the packet
Sugar pearls and stars for decoration
1
Stir the butter until peaks are formed. Add the sugar, salt and eggs, continue to stir until the mixture turns a light colour. mix together the grated chocolate, PureSpelt flour and the Paidol, add to the butter mixture and fold in to form a dough, do not knead. Wrap the dough in a clear kitchen film and leave it in the refrigerator for 1-2 hours.
2
Cut the dough into portions and roll out until it is 4-5 mm thick, return the rolled portions to the refrigerator.
3
Using a suitable form, cut out the pine trees according to taste and lay them on a baking tray covered with baking paper; return to the refrigerator until you are ready to bake them.
Baking
Bake for 10-12 minutes in the middle of an oven preheated to 200°C. Remove from the oven and allow to cool completely.
4
Brush the pine trees with the chocolate glaze or dip them into it. Decorate according to taste.
Source:
IG Dinkel, Judith Gmür-Stalder