PureSpelt cinnamon cookies
for approx. 100 cookies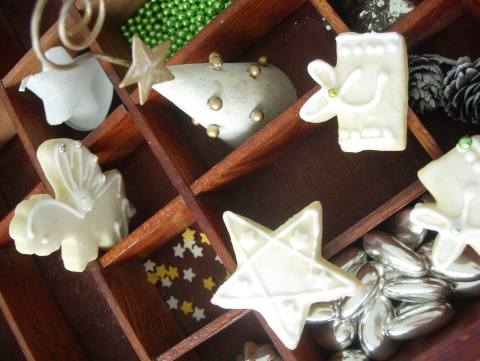 Dough
125 g of butter, soft
100 g of sugar
1 pinch of salt
1/2 lemon, grated peel
1 teaspoon of cinnamon
1 egg
1 egg yolk
250 g of PureSpelt white flour
2 tablespoons of corn starch
Glazing
150 g of icing sugar
2-3 tablespoons of lemon juice
2-3 tablespoons of icing sugar, coloured sugar pearls according to taste
1
Mix the butter until it forms peaks. Add the sugar, salt and cinnamon. Add the egg and the egg yolk, continue to mix until the mass turns a light colour. Mix together the PureSpelt flour and the corn starch, add to the mixture and fold together to form a dough, do not knead. Wrap the dough in a transparent foil and place in the refrigerator to cool for 1-2 hours.
2
Remove the dough in portions and roll out on a lightly floured surface to a thickness of 4-5 mm thick. Cut out any desired shapes and lay on a baking tray covered in baking paper, place in a refrigerator to cool.
Baking
Bake for 10-12 minutes in the middle of an oven preheated to 200°C. Remove from the oven and allow to cool on a grid.
3
For the glazing, stir together the icing sugar and the lemon juice to form a smooth paste, brush onto the cookies. If desired, mix the remaining glazing paste with additional icing sugar to a consistency that can be squeezed through an icing bag, place in an icing bag and decorate the dried cookies according to taste.
Suggestion
PureSpelt cinnamon cookies can be stored in a cool, dry place for up to 2-3 weeks.
Source:
IG Dinkel, Judith Gmür-Stalder