PureSpelt cubes
for 1 baking tin 20 x 20 cm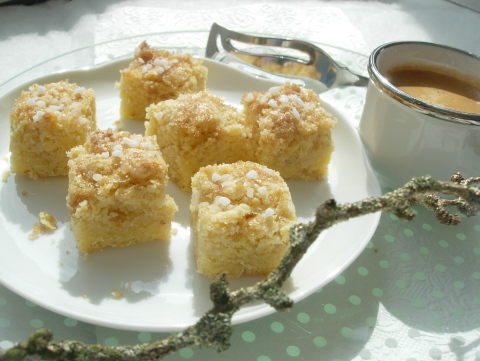 300 g of PureSpelt white flour
2 tablespoons of PureSpelt semolina
2 tablespoons of peeled ground almonds
125 g of sugar
250 g of salted butter, cold, cut into pieces
2 egg yolk
2 teaspoons of white wine or cream

Raw sugar and sugar crystals for dusting
1
For the dough, mix together the flour, semolina, almonds and sugar in a mixing bowl. Add the butter, using your hands rub the ingredients together to form a crumbly mass. Whisk together the egg yolk and the white wine or cream, add to the bowl and briefly fold in. Pour the dough crumbs into the baking tin lined with baking paper, wet your hands and lightly press the mixture flat; sprinkle with sugar.
Baking
Bake for 25-30 minutes in the middle of an oven preheated to 200°C. Remove from the oven and allow to cool slightly in the baking tin, then remove from the tin and while it is still warm cut into cubes of the desired size, allow to finish cooling.
Suggestion
The PureSpelt cubes can be stored in a cool, dry place for up to 1-2 weeks.
Source:
IG Dinkel, Judith Gmür-Stalder