PureSpelt lemon curd thaler
for approx. 40 thaler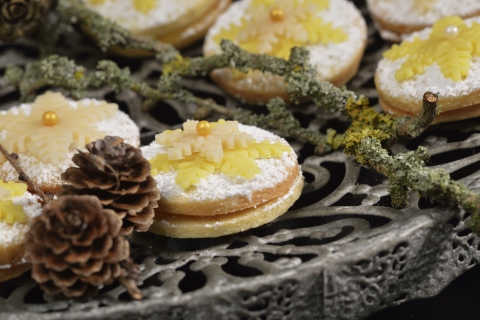 Dough
125 g of butter, soft
75 g icing sugar
1 pinch of salt
1 lime, grated peel and 1 teaspoon of juice
250 g of PureSpelt white flour or half-white flour
2 teaspoon of corn starch
4-5 tablespoons of cream

Flour for rolling out the dough
Filling
Approx. 300 g of lemon curd

Icing sugar for dusting
1
Dough: Beat the butter until peaks are formed. Add the icing sugar, salt, grated lime peel and lime juice; continue to beat until the mixture turns a lighter colour. Add the PureSpelt flour, corn starch and cream and fold together to form a dough; do not knead. Wrap the dough in clear kitchen film and refrigerate for 1-2 hours.
2
Divide the dough into suitable portions and roll out on a lightly floured flat surface until it is 2-3 mm thick, return to the refrigerator.
3
From the circular pieces of dough cut out an even number of small circles (thaler = old German coin) with a diameter of approximately 4.5 cm, lay them on a baking tray covered in baking paper and return them to the refrigerator.
Baking
Bake for 7-9 minute in the middle of an oven preheated to 180°C. Remove from the oven and allow to cool.
4
Divide the thaler into two halves and spread one half with lemon curd. Place the other half of the thaler on top of the lemon curd to form a sandwich. Dust with a little icing sugar and serve cool.
Notes
Lemon curd is an English spread consisting of lemon, eggs, butter and sugar. It is available in Switzerland from health product shops, large wholesalers or in the food departments of some large department stores. Depending on taste, instead of lemon curd use a jam of your choice. Instead of dusting with icing sugar, coat the thaler with an icing sugar glaze and decorate to your taste.
Source:
IG Dinkel, Judith Gmür-Stalder