PureSpelt nut fingers
Preliminary time: ca. 1 hour
Preparation time: approx. 30 minutes
Baking or cooking time: approx. 15 minutes
for approx. 45 fingers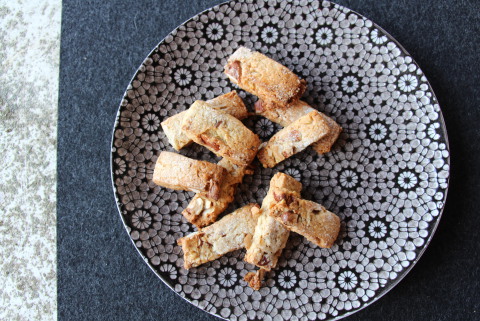 75 g of butter, soft
175 g of raw sugar
2 eggs
1 teaspoon of cinnamon
1 pinch of salt
50 g of ground hazelnuts
200 g of mixed, chopped nuts, e.g. walnuts, hazelnuts and almonds
250 g PureSpelt half-white flour

A little beaten egg white for brushing
A little raw sugar for dusting
1
For the dough, stir the butter until peaks form. Add the sugar, eggs, cinnamon and salt, continue to stir until the mixture is light in colour. Mix in the nuts and the flour. Leave to steep for a short time.
2
Roll out the dough on a lightly floured surface until it is approx. 1 cm thick. Place in the refrigerator for approximately 1 hour to allow it to become firm.
3
Before baking, brush the dough with the beaten egg white and sprinkle with sugar. Immediately cut into fingers of approx. 1.5 x 7 cm and lay them on a baking tray covered with baking paper.
Baking
Bake for 15-20 minutes in an oven preheated to 200°C.
Suggestion
PureSpelt nut fingers can be stored for 4-5 weeks if kept in a cool and dry place.
Source:
IG Dinkel, Judith Gmür-Stalder