PureSpelt pistachio nut cantuccini
for approx. 60 biscuits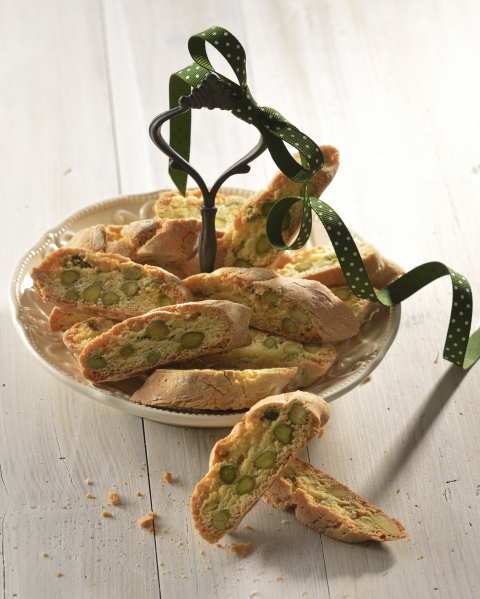 2 eggs
150 g of sugar
1 pinch of salt
2 teaspoons of Amaretto liqueur
250 g of PureSpelt half-white or white flour
1 teaspoon of baking powder
1/2 a lemon, grated peel
200 g of pistachio nuts

1/2 a bag of dark cake glaze, approx. 60 g, melted according to the instruction on the bag
1
Stir together the egg, salt and Amaretto liqueur until the mixture becomes light in colour. Mix together the flour and the baking powder and then add to the mixture together with grated lemon zest and the pistachio nuts. Fold together to form a dough. Cut the dough into three equal parts and roll out on a lightly floured surface to form rolls approximately 40 cm in length. Lay the rolls on a baking tray covered with baking paper.
Baking
Bake for 20 minutes in the middle of an oven preheated to 180° C.
2
Remove the rolls from the oven and cut them at an angle into 1 cm wide slices while they are still hot. Spread the slices out on the baking tray.
Baking
Allow the slices to dry for 15-20 minutes in the middle of a 150°C warm oven. Open the oven door and allow to cool in the opened oven.
3
Dribble the biscuits with chocolate according to taste or dip the biscuits up to one half their length in the glazing and allow to harden.
Variations
Instead of pistachio nuts, use other nuts or seeds. Depending on taste, use PureSpelt half-white flour with 20 % grist. The biscuits can be stored in a cool, dry place for up to 2-3 months.
Source:
IG Dinkel, Judith Gmür-Stalder