PureSpelt spicy angels
for approx. 50 angels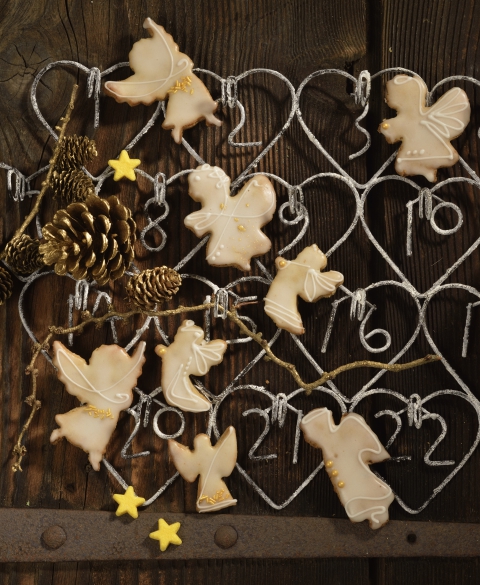 Dough
125 g of butter, soft
150 g of sugar
1 pinch of salt
2 tablespoons of gingerbread spices
2 egg yolks
50 g of ground almonds
200 g of PureSpelt half-white flour or half-white flour with 20% whole grain
2 tablespoons of corn starch
Glaze
150 g of icing sugar
2-3 tablespoons of lemon juice
Sugar pearls
1
Stir the butter until peaks are formed. Add the sugar, salt, gingerbread spices and egg yolk, continue to stir until the mixture turns a light colour. Mix together the ground almonds, the PureSpelt flour and corn starch, fold together to form a dough; do not knead. Wrap the dough in a clear kitchen film and place in the refrigerator for 1-2 hours.
2
Cut the dough into portions and roll out until it is 4-5 mm thick, return the rolled portions to the refrigerator.
3
Using suitable cutting forms, cut out the angels and lay them on a baking-paper covered baking tray. Place the angels into the refrigerator until you are ready to bake them.
Baking
Bake for 8-10 minutes in the middle of an oven preheated to 200°C. Remove from the oven and allow to cool completely.
4
Glaze: Stir together the icing sugar and the lemon juice to form a glaze, brush it on to the angels and allow to dry. Depending on taste, use icing sugar to thicken the remaining glaze, possibly colour it using food dye and use it to decorate the angels.
Variation
Instead of glazing, simply dust the angels with icing sugar.
Source:
IG Dinkel, Judith Gmür-Stalder