PureSpelt tuilles (tiles)
for approx. 50 tiles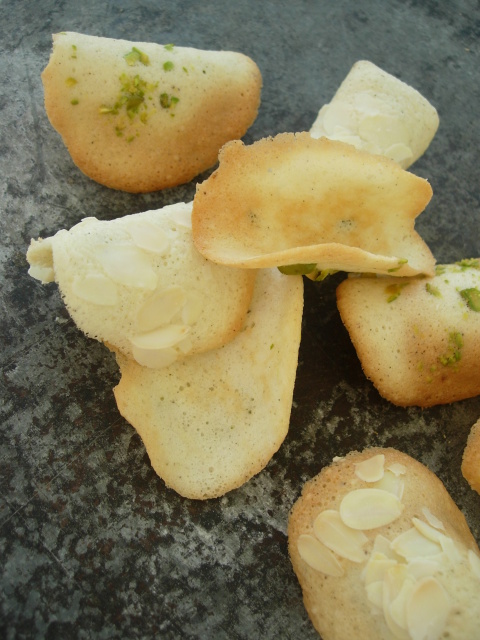 The white of 3 eggs
1 pinch of salt
125 g of icing sugar
50 g of PureSpelt flour, light
50 g of grated almonds
60 g of butter, melted

Almond flakes or finely chopped pistachio nuts
1
Beat the egg whites together with the salt until they are not quite stiff, gradually add the sugar while continuing to beat until the mixture becomes shiny. Sieve in the PureSpelt flour, add the almonds and butter and stir to form a creamy dough.
2
Using portions of 1 table spoon of dough, smooth out on a baking tray lined with baking paper (using the back of a tablespoon) to form round "tiles".
Baking
Bake for 8 -10 minutes in the middle of an oven preheated to 180°C. When the "tuille" have lightly browned edges, remove the baking tray from the oven, using a spatula carefully remove the "tuille" from the baking paper and immediately place them over a rolling pin or slide them into a glass to give them a curved shape. Allow to cool.
Suggestion
The "tuille" can be stored in a cool dry place for up to 2 - 3 weeks.
Source:
IG Dinkel, Judith Gmür-Stalder