PureSpelt apricot Läckerli cookies
Preparation time: approx. 30 minutes
Baking or cooking time: approx. 15 minutes
for 60 cookies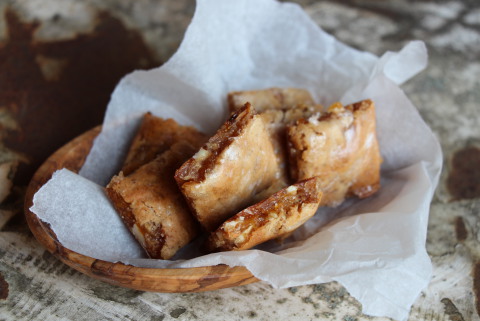 200 g of honey
200 g of sugar
1 tablespoon of gingerbread spices
200 g of dried apricots, cut into strips
100 g of almonds, finely chopped
1 lemon, grated peel
0.5 dl of apricotine liquor or cognac
Approx. 300 g of PureSpelt white or light flour
1 teaspoon of baking powder
Glaze
3 tablespoons of water
3 tablespoons of sugar
1
Heat up the honey and sugar in a saucepan over a low heat. Mix in all the ingredients, up to and including the grated lemon peel, and then heat up the mixture. Add the apricotine or cognac, flour and baking powder and knead to form a smooth dough. Roll out the dough on floured baking paper to form a square 6-8 mm thick. Slide the baking paper onto a baking tray and leave to stand for approx. 1 hour.
Baking
Bake for 12-15 minutes in the middle of an oven preheated to 220°C. Remove the baking tray from the oven and immediately cut into Läckerli cookie sized pieces.
2
Heat up the water and the sugar until it is of a syrupy consistency. Brush the glazing onto the cookies while they are still warm and then allow to cool.
Suggestions
Roll out the dough while it is still warm since otherwise it is almost impossible to roll it out. The cookies can be stored in a cool and dry place for 3-4 weeks.
Source:
IG Dinkel, Judith Gmür-Stalder