PureSpelt choco pops
Preliminary time: approx. 30 minutes
Preparation time: approx. 30 minutes
for 40 choco pops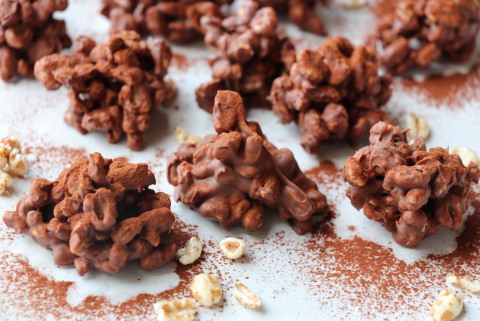 100 g of dark chocolate chopped into pieces
100 g of milk chocolate chopped into pieces
25 g of butter
Approx. 80 g of PureSpelt pops (or PureSpelt nuts)
A few dried chili flakes dependent on taste

Cocao powder for dusting according to personal taste
1
Melt the chocolate and the butter in a bowl immersed in a warm water bath. Stir in the PureSpelt nuts. For each choco pop cluster use 1 to 2 teaspoons of the mixture and form it into a neat cluster on baking paper. Sprinkle the clusters with chili flakes according to taste. Place the clusters in a cool place and allow to solidify.
2
Immediately prior to serving, lightly sprinkle the choco pop clusters with cacao powder.
Suggestions
If kept in a cool dry place, the PureSpelt choc pop clusters can be stored for between 1 and 2 weeks. Instead of using chili flakes, sprinkle the choco pop clusters with ground pink pepper.
Source:
IG Dinkel, Judith Gmür-Stalder