PureSpelt walnut biscuits
Preliminary time: approx. 2 hours
Preparation time: approx. 45 minutes
Baking or cooking time: approx. 12 minutes
for 60 biscuits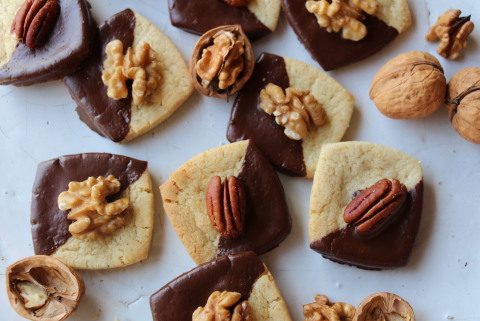 Dough
150 g of butter, soft
150 g icing sugar
1 pinch of salt
1 packet of vanilla sugar
150 g of grated walnuts
Approx. 275 g of PureSpelt white or light flour
2 packets of dark icing sugar, approx. 250 g
Garnish
2 packets of dark icing sugar, approx. 250 g
60 walnuts and/or pecan nuts according to taste
1
Beat the butter until peaks are formed. Add the icing sugar, salt and vanilla sugar. Continue to stir until the mixture turns to a light color. Add the ground walnuts and PureSpelt flour and fold in to form a dough; do not knead.
2
Roll out the dough between 2 sheets of baking paper until it is 7 mm thick. Lay the dough on an inverted baking tray, place in a refrigerator for 1-2 hours and allow it to solidify.
3
Cut the dough into 3.5 cm squares and lay the squares on a baking tray lined with baking paper, leaving a little space between the squares.
Backen
Bake the biscuits in the middle of an oven preheated to 200°C for 10 to 12 minutes. Remove from the oven and allow to cool on a grid.
Garnitur
Prepare the dark icing sugar in accordance with the instructions on the packet. Dip one half of each PureSpelt walnut biscuit in the icing, allow the icing to drip off and then lay the biscuits on baking paper. Decorate with the nuts and allow to solidify.
Suggestion
PureSpelt walnut biscuits can be stored in a cool and dry place for 2-3 weeks.
Source:
IG Dinkel, Judith Gmür-Stalder