PureSpelt rose whoopie pies
for approx. 40 pies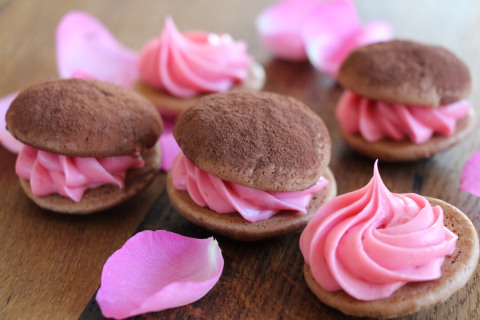 Baking paper to line the baking tray
Piping bag with flat and toothed nozzles
Dough
75 g of butter, soft
150 g of sugar
1 teaspoon of vanilla sugar
1 pinch of salt
3 eggs
100 g of dark chocolate, melted
225 g of PureSpelt white flour
¼ teaspoon of baking powder
Filling
300 g of white chocolate, chopped
250 g of mascarpone cheese
A few drops of rose oil or 2-3 tablespoons of rose water
Red food colouring to taste
Decoration
Rose petals, unsprayed, as desired
Cocoa powder or icing sugar for dusting
1
Dough: Stir the butter until peaks are formed. Mix in the sugar, vanilla sugar and salt. Add the eggs one at a time mixing in each egg well before adding the next, continue to stir until the mixture takes on a light tone. Add the chocolate. Sieve in the flour and the baking powder and only briefly mix these ingredients in. Fill the dough into the piping bag and using the flat nozzle form approx. 80 round biscuit shaped discs on the prepared baking tray.
Baking
Preheat the oven to 180°C. Bake the pie halves in the middle of the preheated oven for 10-12 minutes. Remove from the oven and using a wide spatula transfer them to a grid to cool.
2
Filling: Melt the white chocolate in a water bath that is not too hot. Add the mascarpone cheese in portions and mix into the chocolate. Flavour the mixture using rose oil or rose water and colour to taste using the red food colouring. Place the mixture in a cool place until it is slightly firm and then stir until it is of a smooth consistency.
3
Lay out half of the pie halves with the rounded side downward on a tray. Fill the piping bag with the filling mixture and squirt a suitable portion of the filling onto each biscuit using the toothed nozzle. Carefully cover each of the prepared biscuits with a second biscuit and store the pies in a cool place.
4
Directly prior to serving, dust the whoopie pies with cocoa or icing sugar. Decorate the plates using rose petals.
Source:
IG Dinkel, Judith Gmür-Stalder