PureSpelt Anise Butter Stars
for approx. 60 stars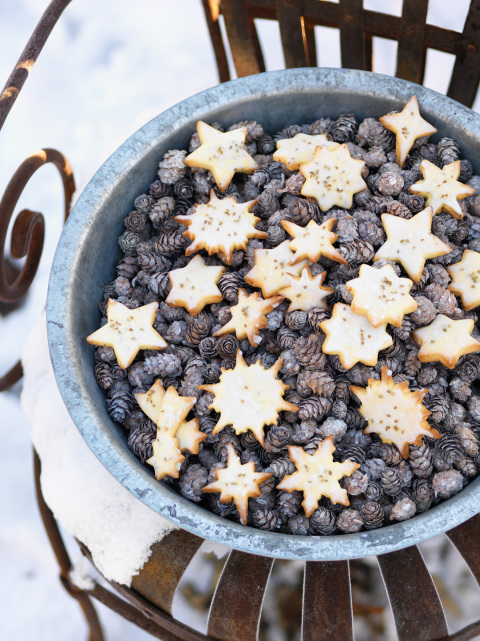 Baking paper to line the baking tray
Star cutter
Dough
175 g butter, soft
75 g icing sugar
1 pinch salt
1-2 tablespoons of aniseed seeds, finely ground using a mortar
1 egg yolk
A few drops of lemon juice
250 g PureSpelt white or half white flour
3 tbsp cornstarch
Glaze
150 g icing sugar
2-3 tbsp Pastis or lemon juice
Aniseed seeds and icing sugar, for dusting
1
To prepare the dough, cream the butter. Add the icing sugar, salt and aniseed and continue to stir until mixture turns light in colour. Stir in the egg yolk and lemon juice. Add the flour and cornstarch, and fold in to form a dough, do not knead the mixture. Wrap the dough in plastic and place in the refrigerator for at least 2 hours.
2
Roll out the dough to 3-4 mm thick, in portions, either between sheets of baking paper or on a lightly floured surface. Refrigerate for a short time. Cut out the stars and lay on a baking tray lined with baking paper. Refrigerate for a short time.
3
Place the baking tray in the middle of an oven preheated to 200°C and bake for 8 to 10 minutes until they are light brown in colour. Cool on a cooling rack.
4
For the glaze, mix the icing sugar with the Pastis or lemon juice. Glaze the butter stars. Sprinkle with aniseed seeds and / or icing sugar.
Suggestions
The biscuits can be stored in a cool dry place for up to 3 to 4 weeks. Dip half the biscuits in dark chocolate glaze. Pastis is a spirit produced using aniseed, fennel, liquorice, sugar, etc. It is available at specialist retailers.
Source:
IG Dinkel, Judith Gmür-Stalder