Caramelised PureSpelt walnut balls
for approx. 60 balls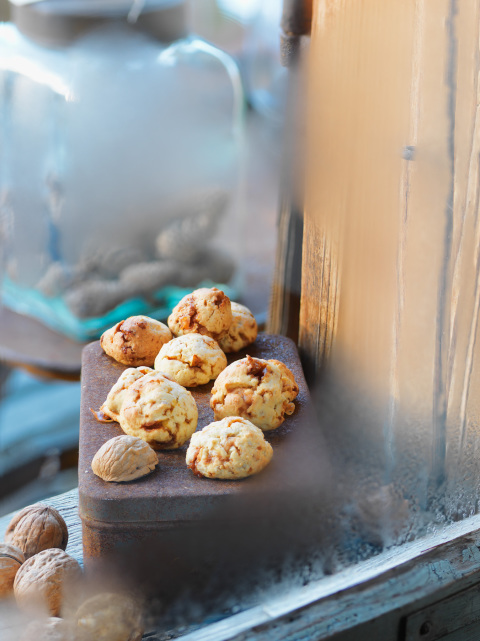 Baking paper for the baking tray
75 g of sugar
200 g of walnuts
75 g of soft butter
150 g of sugar
1 pinch of salt
2 eggs
1 egg yolk
350 g of PureSpelt half white flour
with 20% bruised grain
1/2 teaspoon of baking powder
100 g of soft caramel, chopped
1
Caramelise the sugar in a stainless steel pan. Add the walnuts and rapidly turn them in the caramelised sugar using a fork then spread them onto baking paper. Allow them to cool and then chop into chunky pieces.
2
For the dough, beat the butter until peaks are formed. Add the sugar, salt, eggs and egg yolk, continue to beat until the mixture turns a light colour. Mix together the flour and the baking powder, add the caramelised walnuts and butter and fold in to form a dough, do not knead.
3
Using wet hands, form the dough into balls and lay them on the baking paper lined baking tray.
4
Bake the caramalised-walnut balls in the middle of an oven preheated to 200°C for 10 to 12 minutes. Spread the biscuit balls on a grid to cool.
Suggestions
Instead of walnuts use hazel nuts, almonds, pistachio nuts or a mixture of nuts. If stored in a dry and cool place, the biscuit balls can be kept for up to three to four weeks
Source:
IG Dinkel, Judith Gmür-Stalder