PureSpelt Mailänderli (Swiss shortbread)
Preliminary time: approx. 1 hour in a cool place
Preparation time: approx. 1 hour
Baking or cooking time: approx. 12 minutes
For approx. 60 cookies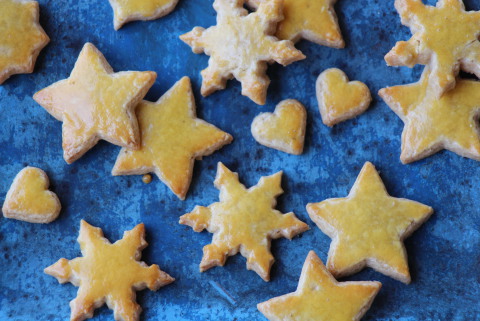 Dough
150 g of butter, soft
125 g of raw sugar
1 teaspoon of vanilla sugar
1 organic lemon, grated rind
1 pinch of salt
1 egg
300 g of PureSpelt white or half-white flour
Garnish
1 egg yolk
1 pinch of sugar
1 teaspoon of rape seed oil
1
For the dough, whip the butter until it forms small peaks. Add the sugar and continue stirring until the mixture turns light in color. Add the vanilla sugar, lemon peel, salt and egg, stir briefly. Add the PureSpelt flour and fold in to form a smooth dough. Wrap the dough in foil and leave in a cool place (refridgerator) for 1-2 hours.
2
Roll out the dough in portions of 6-7 mm thick. Cut out the cookies, place on the prepared baking tray and leave to cool (refridgerator) for 30 minutes.
3
For the garnish, mix together the egg yolk, the sugar and the oil, brush on to the cookies.
4
Baking: Bake the cookies in the middle of an oven preheated to 180°C for 8-12 minutes, remove and allow to cool on a cake rack.
Source:
IG Dinkel, Judith Gmür-Stalder