PureSpelt nut bee-sting-cake (Bienenstich)
for 12 pieces, 1 Springform cake tin of 24 cm diameter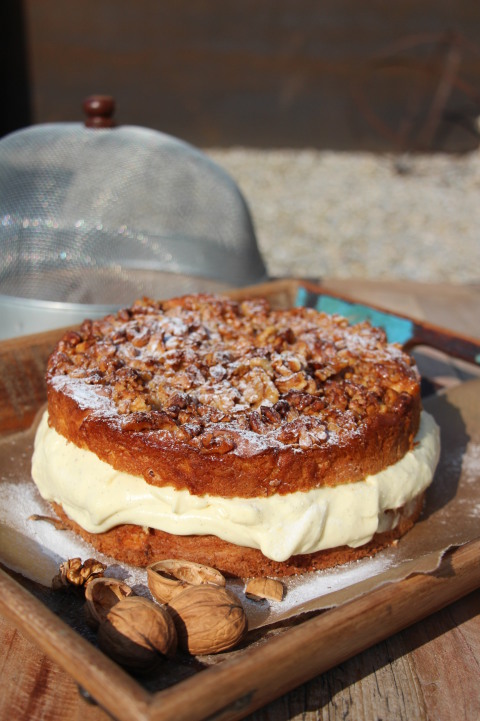 Baking paper for the base of the tin, butter for greasing the spring ring
Grain mash
170 g of water
130 g PureSpelt white flour
Dough
250 g PureSpelt white flour
¼ teaspoon of salt
3 tablespoons of sugar
20 g of yeast, crumbled
50 g butter, cut into pieces
Approx. 1.5 dl of milk
Filling
5 egg yolks
125 g of sugar
1 tablespoon of vanilla sugar
40 g corn starch
5 dl of milk
1 vanilla pod, sliced open along its length
3 sheets of gelatine, softened in cold water and drained
1.5 dl of cream, beaten until stiff
Trimming
25 g of butter
50 g of honey
100 g of chopped walnuts

Icing sugar for dusting
1
Grain mash: Bring the water to the boil and while still boiling stir into the flour. Continue stirring until the mixture is compact and smooth. Allow the grain mash to cool. Cover the bowl and leave in the refrigerator overnight.
2
Mix together the flour, salt and sugar, form a hollow in the mixture. Dissolve the yeast in the milk and pour into the hollow together with half of the grain mash. Briefly knead the mixture to form a wet, smooth dough. Fill the dough into the prepared cake tin, cover and allow to stand at room temperature until it has risen to double the volume.
3
Glazing: Warm the butter and the honey together in a saucepan. Mix in the chopped walnuts and then spread the mixture evenly onto the dough.
Baking
Bake the cake for 40-45 minutes in the lower half of an oven preheated to 180°C. Remove from the oven, allow to cool slightly then remove from the springform cake tin and place on a grid to cool.
4
Filling: Stir together the egg yolks together with the sugar and vanilla sugar until the mixture turns light in colour. Mix the corn starch into 1dl of milk and then add to the egg yolk mixture. Place the vanilla pod and the remainder of the milk in a saucepan and bring to the boil, remove the vanilla pod. Add the vanilla milk to the egg yolk mixture while stirring constantly and then pour the mixture back into the washed saucepan. Bring to the boil and cook for 1 minute. Pour the mixture into a bowl through a sieve, immediately cover with Clingfilm and place in a refrigerator until ready to fill the cake.
5
Stir the filling into a smooth paste. Dissolve the gelatine in a water bath. Stir in 2 tablespoons of cream and then add the mixture to the remaining cream. Carefully fold in the cream.
6
Slice across the cake to form two halves and lift off the top half. Evenly distribute the filling on the lower half and place in a refrigerator to cool until the filling has solidified slightly. Only then, lay on the top half, cover the cake and place in the refrigerator for 1-2 hours. Directly prior to serving, cut the cake into slices and dust with icing sugar.
Suggestions
Use the remaining half of the grain mash for a second bee sting cake or to bake a loaf. The grain mash can be deep frozen and kept for 2-3 months. Before use allow to thaw over night in the refrigerator. If desired, place the lower half of the cake back in the springform cake tin, spread with the filling and then cover with the top half of the cake before placing in the refrigerator to allow the filling to solidify. Remove the springform prior to serving.
Source:
IG Dinkel, Judith Gmür-Stalder