PureSpelt butterfly muffins
for 12 muffins, for 1 baking tray with 12 cups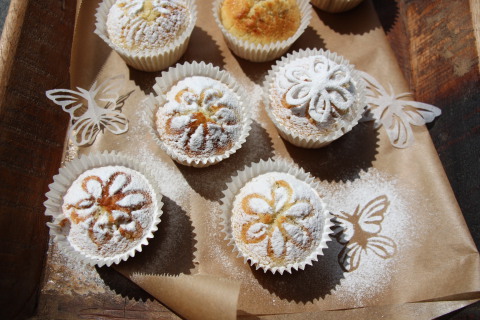 Paper liners or butter to grease the tray
1 butterfly and one flower stencil

2 eggs
175 g of sugar
1 pinch of salt
1-2 teaspoons of edible lavender flowers
Grated peel of 1 lemon
125 g of butter, melted
1.25 dl of cream
175 g of PureSpelt white flour
1/4 teaspoon of baking powder

Icing sugar for dusting
1
Stir together the eggs, sugar and salt until the mixture turns light in colour. Add the lavendar flowers, lemon peel, butter and cream. Sieve in the flour and the baking powder. Briefly stir everything together to form a smooth cake mixture.
2
Distribute the mixture evenly between the paper-lined or buttered cups of the baking tray.
Baking
Bake for 20-25 minutes in the middle of an oven preheated to 180°C. Remove the tray from the oven and allow to cool. Before serving lay the butterfly (or flower) stencil on each muffin in turn and dust with icing sugar. Always remove the stencil carefully so as not to destroy the pattern and serve the muffins while fresh.
Source:
IG Dinkel, Judith Gmür-Stalder