PureSpelt chocolate slices
for 1 baking tin 20 x 25 cm, for 25 slices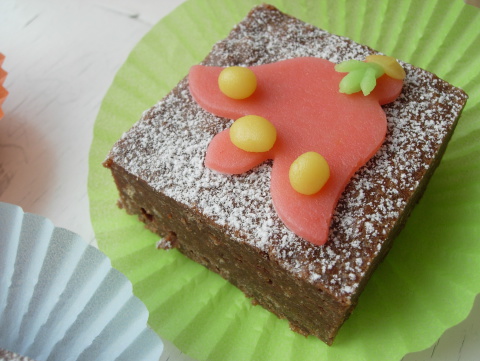 200 g Butter
200 g of dark chocolate, chopped
150 g of sugar
3 eggs
1-2 teaspoons of Kirsch (cherry liquer) or orange juice
100 g of PureSpelt rusks, finely crushed in a plastic bag using a rolling pin
150 g of PureSpelt white flour
1/2 teaspoon of baking powder

Icing sugar and marzipan flowers for decoration
1
Line the baking tin with baking paper.
2
For the cake mixture, first melt the butter in a pan. Add the chocolate and on a low heat stir continuously until it is melted. Stir in the sugar, eggs and cherry liquer or orange juice. Mix together the PureSpelt crumbs, the PureSpelt white flour and the baking powder; stir into the cake mixture until smooth, pour into the prepared baking tin and smooth off.
Baking
Bake for 15-18 minutes in the middle of an oven preheated to 180°C. The baked mixture should yield under finger pressure! Remove from the oven and allow to cool. Cut into slices and decorate shortly prior to serving.
Suggestions
If kept refrigerated, the PureSpelt chocolate slices can be kept for up to 1 week, or if deep frozen up to 2-3 months. Allow the deep frozen slices to defrost shortly prior to serving. Serve the slices in coloured paper muffin cases according to taste.
Source:
IG Dinkel, Judith Gmür-Stalder