PureSpelt pumpkin seed rusks
for 10 rusks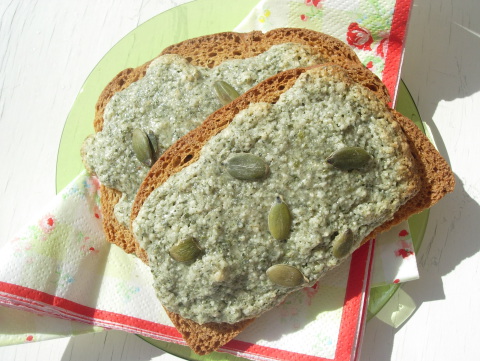 10 PureSpelt rusks
Topping
150 g of pumpkin seeds, finely ground
100 g of sugar
6-7 tablespoons of cream

Pumpkin seeds for decoration
1
Lay the PureSpelt rusks on a baking tray lined with baking paper.
2
Topping: Mix the ground pumpkin seeds, sugar and cream into a spreadable mixture and spread onto the PureSpelt rusks, sprinkle with pumpkin seeds.
Baking
Bake for 8-12 minutes in the middle of an oven pre-heated to 180°C. Eat while fresh.
Suggestion
Depending on personal taste, replace half of the pumpkin seeds with almonds or hazelnuts.
Source:
IG Dinkel, Judith Gmür-Stalder