PureSpelt apricot brioche
for approx. 12 brioche pastries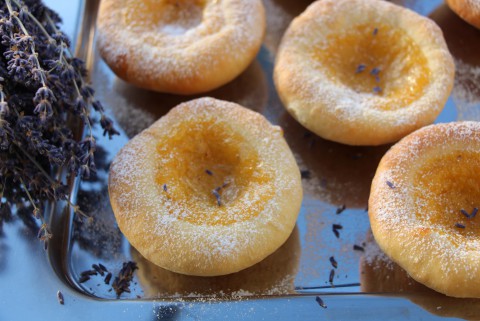 Apricot cream
100 g of apricots, finely diced
150 g of sugar
2 teaspoons of vanilla sugar
1 teaspoons of corn starch
1-2 tablespoons of water
100 g of butter, cut into pieces
4 egg yolks
Brioche dough
300 g of PureSpelt white flour
½ teaspoon of salt
2 tablespoons of sugar
20 g of yeast, crumbled
75 g of butter, cut into pieces
1 egg, whisked
Approx. 0.75 dl of milk

Icing sugar and cooking lavender for decoration according to taste
1
Apricot cream: Very finely puree the apricots, sugar, vanlla sugar, corn starch and water using a blender and bring to the boil. Using a whisk, add the egg yolk while constantly stirring, heat until it is just coming to the boil. Immediately pour the cream into a cold bowl and allow to cool while stirring occasionally.
2
Brioche dough: Put all the ingredients into a mixing bowl and very briefly, carefully knead to a yeast dough. Cover and allow to rise at room temperature until it has doubled in volume
3
Cut the dough into 12 equal portions, roll out to form discs of 11-12 cm diameter, place the dough discs in the buttered tart tins, cover and allow to rise again for a short time.
4
Flatten the centre of the dough bases and distribute the apricot cream evenly on the tarts. Bake the brioche tarts in the middle of an oven pre-heated to 170-180 °C for 12-15 minutes until lightly brown. Decorate immediately prior to serving.
Suggestion
Instead of apricot puree, use another fruit puree.
Source:
IG Dinkel, Judith Gmür-Stalder