PureSpelt gingerbread cubes
for16-20 cubes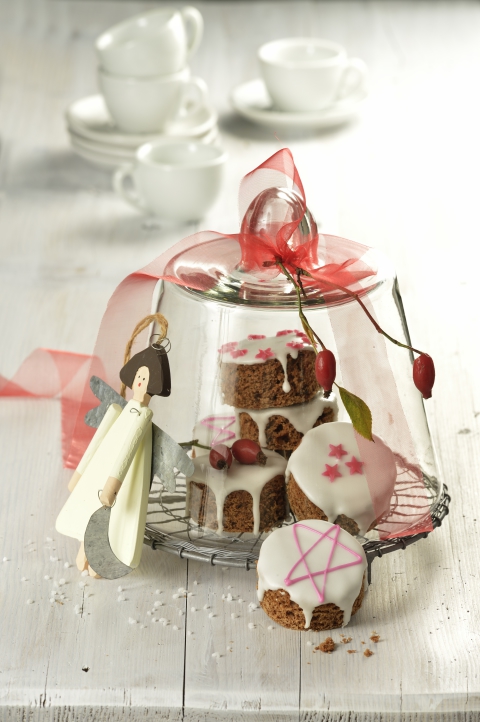 Dough
150 g of honey
100 g of sugar
1-2 tablespoons of gingerbread spices
2 tablespoons of chocolate powder
The grated peel of 1 lemon
1 tablespoon of baking soda
150 g of crème fraîche
250 g of PureSpelt half-white flour
Glazing
200 g of icing sugar
2-3 tablespoons of Kirsch liqueur or orange juice
Red food dye according to taste

Coloured marzipan, according to taste, for decorating
1
Mix together all the ingredients up to and including the grated lemon peel in a saucepan and heat, do not allow to boil. Dissolve the baking soda in the liquid. Stir in the crème fraîche. Add the flour and mix to form a dough. Pour the dough mixture into a baking tin (approx. 25 x 25 cm) lined with baking paper, spread evenly and smooth the surface.
Baking
Bake for 25-30 minutes in the middle of an oven preheated to 160°C. Remove from the oven and allow to cool completely.
2
Cut the cake into 16-20 cubes or if preferred cut out circles approximately 6 cm in diameter.
3
Glazing: Stir all the ingredients together to form a glaze. Dip the gingerbread pieces into the glazing and lay them on a grid to dry, decorate to taste using the marzipan.
Suggestion
Use what is left over of the cake after the circles have been cut out to add to a jelly or trifle, or crumble and sprinkle over a fruit salad.
Source:
IG Dinkel, Judith Gmür-Stalder