PureSpelt Dutch tart
for 1 spring-form 24 cm diameter cake tin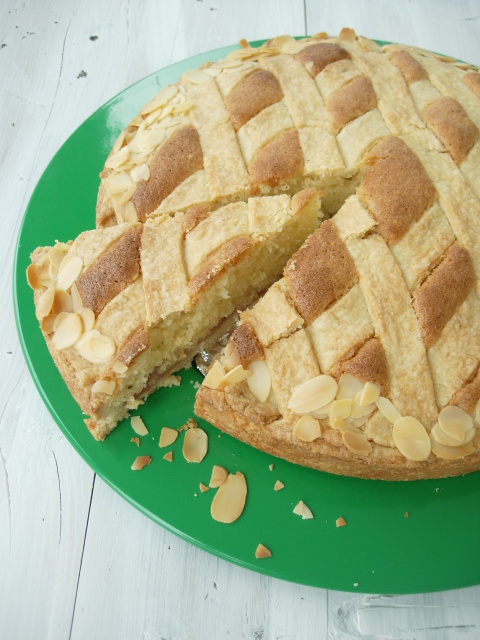 Dough
300 g of PureSpelt white flour
1 pinch of salt
75 g of sugar
150 g of butter, cold, cut into pieces
1 egg, whipped
Possibly a little cream
Filling
6 tablespoons of apricot jam
3 eggs
150 g of sugar
1 pinch of salt
1 teaspoon of vanilla sugar
100 g of butter, melted, cooled
150 g of blanched ground almonds
50 g of PureSpelt white flour

2-3 tablespoons of almond flakes
1
Dough: Mix together the flour, salt and sugar. Add the butter, using the hands rub together until it forms a crumbly mixture. Add the eggs and possibly a little cream, fold in to form a dough; do not knead. Cover and place in a cool place for 1 hour.
2
Use ¾ of the dough to cover the base of the buttered cake tin. Place the remainder on baking paper and roll out to form a round form the same diameter as the cake tin. Cut into slices about 1.5 cm in width, cover and keep in a cool place.
3
Filling: Spread the dough base in the cake tin with the apricot jam. Mix the eggs, sugar, salt and vanilla sugar together and beat until the mixture turns light. Mix in the butter, almonds and the flour and distribute the mixture evenly on the dough base.
4
Lay the cooled strips of dough in the form of a grid on top of the filling. Sprinkle almond flakes around the edge of the dough.
Baking
Bake for approximately 45 minutes in the middle of an oven pre-heated to 180°C and then allow to cool.
Suggestion
The tart still tastes good after 2-3 days. For storage, wrap and keep in a cool place.
Source:
IG Dinkel, Judith Gmür-Stalder