PureSpelt Linzer Torte
for 1 springform baking tin of approx. 22 cm diameter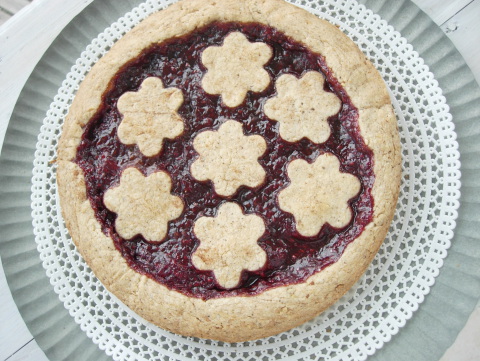 Dough
250 of PureSpelt white flour
½ teaspoon of baking powder
A little cinnamon
125 g of icing sugar
150 g of butter, cold, cut into small pieces
100 g of grated hazelnuts, roasted and cooled
1 egg, whipped
Filling
100 g of raspberries, crushed using a fork
200 g of raspberry jelly or jam
A few drops of lemon juice

A little egg for glazing according to taste
1
Dough: Mix together the flour, baking powder, cinnamon and icing sugar. Add the butter, mix by hand to form a fine crumbly mixture. Add the hazelnuts and the egg and fold together to form a dough, cover and place in the refrigerator for 1 hour.
2
Roll out approximately ¼ of the dough, 3-4 mm thick. Press out the flowers and lay them on a baking tray covered with baking paper. Roll out the remainder of the dough to the size of the springform baking tin. Butter the baking tin and lay the dough in the form such that an edge approximately 3 cm high is formed.
3
Filling: Stir together the raspberries, the jelly or jam and the lemon juice, distribute evenly on the dough base. Lay the dough flowers on the on the raspberry filling; brush with egg according to taste.
Baking
Bake for 5 minutes in the lower half of an oven preheated to 200°C, then reduce the temperature to 160°C and bake for a further 40 minutes.
Suggestions
It is essential to allow the Linzer Torte to "steep" for 2-3 days before enjoying its full aroma. Flavour the dough according to taste with grated lemon peel, a little powdered clove or vanilla sugar. Instead of raspberry jelly use blackcurrant jelly or jam.
Source:
IG Dinkel, Judith Gmür-Stalder