PureSpelt fig cake
for 1 cake form 28-30 cm in length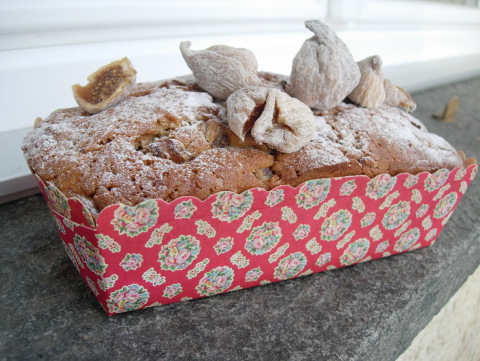 250 g of dried figs, diced
3 tablespoons of Grand Marnier or orange juice

275 g of PureSpelt brown flour
2 teaspoon of baking powder
125 g of brown sugar
2 eggs
150 g of butter, liquid
1,5 dl of milk
A little ground nutmeg
1 teaspoon of cinnamon

Icing sugar and dried figs to decorate
1
Marinate the dried figs in the Grand Marnier or the orange juice for 1 hour.
2
Mix together the flour, baking powder and brown sugar. Mix the eggs, butter and milk together in a separate bowl, pour into the flour mixture. Add the marinated dried figs, mix everything well and pour into the cake form lined with baking paper.
Baking
Bake for 60-70 minutes in the lower half of an oven pre-heated to 160° C. Remove the cake from the oven and allow to cool. Decorate with icing sugar and dried figs prior to serving.
Suggestion
If suitably wrapped, the cake can be stored in a cool place for 2-3 weeks.
Source:
IG Dinkel, Judith Gmür-Stalder