PureSpelt donuts
for approx. 12 donuts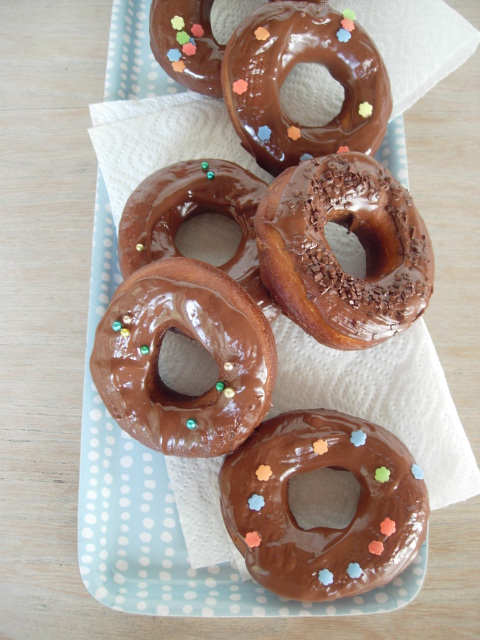 Yeast dough
350 g of PureSpelt white flour
1/2 teaspoon of salt
50 g of butter, melted
Approx. 1.25 dl of milk
20 g yeast, crumbled
50 g of sugar
1 egg, whisked

Oil for frying
Glazing
50 g of butter
2 teaspoons of honey
1 teaspoon of vanilla sugar
150 g of dark chocolate, chopped

Chocolate chips, sugar flowers or beads for decoration
1
To make the dough mix the PureSpelt flour and salt. Mix the butter with the milk, add the yeast, sugar and egg and pour into the flour. Briefly knead to a soft dough. Cover and allow to rise at room temperature until it has doubled in volume.
2
Using a little flour, roll out the risen dough until it is approximately 1 cm thick. Cut out round shapes of approximately 8 cm in diameter. In each circle of dough cut out a hole approximately 4 cm in diameter. Place the resulting rings on a tray lined with flour-dusted baking paper and allow to rise for a further 20-30 minutes.
Baking
Fry the dough rings in hot oil to a light brown colour on both sides, remove, allow to drain well and place on a grid to cool.
3
For the glazing melt the butter and the honey in a small pan. While continuously stirring melt in the vanilla sugar and the chocolate. Brush the still warm donuts with the glazing and decorate to taste.
Tipps
Enjoy the donuts while they are still fresh. Decorate the doughnuts with liquid cake icing or icing sugar according to taste. Instead of glazing, turn the rings in cinnamon sugar.
Source:
IG Dinkel, Judith Gmür-Stalder