PureSpelt carrot roll
for 10-12 people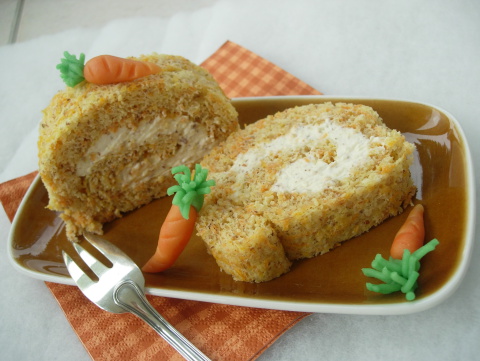 Sponge mixture
5 egg whites
1 pinch of salt
150 g of sugar
1 lemon, grated peel
5 egg yolks
250 g of carrots, cleaned , finely grated
100 g of ground almonds
100 g of PureSpelt white flour
1 teaspoon of baking powder
Filling
4-5 tablespoons of Amaretto or orange juice
2.5 dl of cream, whipped until stiff
1 packet of vanilla sugar
2-3 tablespoons of sugar
4 tablespoons of ground almonds, roasted, cooled

Marzipan carrots for decoration
1
Beat the egg whites together with the salt until stiff. Add the sugar and lemon peel, continue to beat the mixture until shiny. Briefly stir in the egg yolks. Add the grated carrots and almonds. Mix together the baking powder and the flour, sieve into the mixture and carefully fold in. On a tray covered in baking paper smooth out the mixture into an approximately 1 cm thick square.
Baking
Bake for 10-12 minutes in the middle of an oven preheated to 200°C. Drop the sponge onto baking paper, immediately cover with the baking tray and allow to cool.
2
To add the filling, carefully ease the sponge from the baking paper, brush with Amaretto or orange juice. Carefully mix together the cream, vanilla sugar, sugar and almonds, spread evenly over the sponge, roll up the sponge, cover and allow to cool in the refrigerator for at least 3 hours. Before serving cut into slices and decorate with the marzipan carrots.
Source:
IG Dinkel, Judith Gmür-Stalder