PureSpelt Yule log for Christmas
Preparation time: ca. 1 Stunde
Baking or cooking time: ca. 7 Minuten
1 Roulade, ca. 12 Stück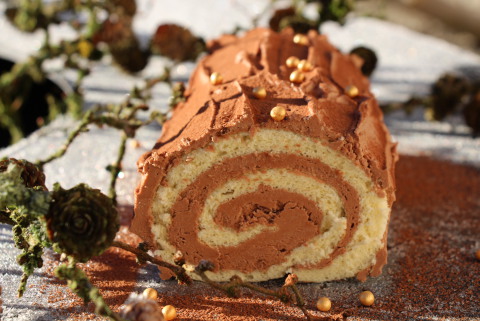 For the biscuit mixture
4 eggs
1 pinch of salt
90 g of sugar
1 teaspoon of vanilla sugar
90 g of PureSpelt white flour, sieved
Chocolate butter cream
250 g of butter, cut into pieces, use soft
150 g of icing sugar
2 tablespoons of Grand Marnier or orange juice
150 g of dark chocolate, e.g. Crément, melted

Marzipan leaves and sugar pearls for decoration
1
For the biscuit mixture, put the eggs, the salt, sugar and the vanilla sugar into a bowl and using a food processor or a hand mixing device, blend until very fluffy. Sieve in the flour and carefully fold it into the mixture. Smooth out the dough onto a baking tray lined with baking paper to form a square approximately 1 cm thick.
Baking
Bake for approximately 5-8 minutes in the middle of an oven preheated to 200°C. Slide the biscuit on the baking paper onto the working surface, use the baking tray to cover it and allow to cool.
2
For the butter cream, beat the butter until peaks are formed. Add the icing sugar and either the Grand Marnier or the orange juice, continue to blend until the mixture becomes fluffy. Add the melted chocolate one tablespoon at a time and continue to blend until the mixture is light and fluffy.
3
Carefully loosen the biscuit from the baking paper, spread it with 2/3 of the butter cream and roll up tightly. Cover the roll with the remainder of the butter cream and using a fork form grooves and peaks according to taste and then refrigerate.
4
Before serving the Yule log, cut at both ends and decorate.
Suggestion
Only decorate with the marzipan leaves just before the Yule log is served, otherwise they can become soft and are likely to melt.
Source:
IG Dinkel, Judith Gmür-Stalder