PureSpelt chocolate-peppermint Gugelhopf (marble cake)
For 1 two-litre Gugelhopf baking form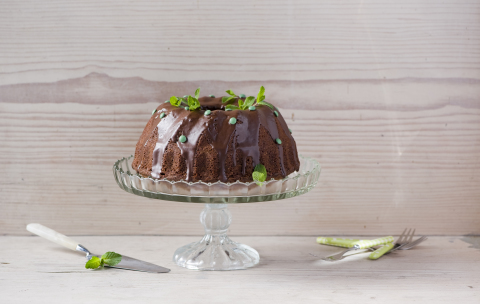 Butter and flour for the baking form

200 g of butter, soft
200 g of sugar
1 pinch of salt
3 eggs
4 tablespoons of peppermint, finely chopped
200 g of dark chocolate, melted
1 small apple, approx. 150 g, peeled and cored, finely grated
2 tablespoon of cocoa powder
75 g of ground almonds
275 g of PureSpelt flour with 20% whole grain
2 tablespoons of baking powder
1.5 dl of cream
Decoration
1 packet of light or dark cake glaze, approx. 125 g, melted
Peppermint leaves
Small green chocolate beads, e.g. Smarties
1
Stir the butter until peaks are formed. Add the sugar, salt and eggs and continue to stir until the mixture goes lighter. Stir the chopped mint, chocolate and apple into the mixture. Mix the cacao powder, almonds, flour and baking powder, add together with the cream. Stir to form a smooth dough and fill it into the buttered and floured baking form.
Baking
Bake for 50-55 minutes in the lower half of an oven pre-heated to 180°C. Allow the Gugelhopf (marble cake) to cool for a while in the baking form, turn out onto a grid and allow to cool completely. Before serving, pour on the cake glazing and decorate.
Information
If the Gugelhopf is well wrapped and placed in a cool place, it can be kept for 4-5 days, it will even become moister and more aromatic. It can be served according to taste with a dollop of whipped cream or with a scoop of vanilla ice cream and a little peppermint syrup or liqueur. Instead of using fresh mint, add 1-2 tablespoons of dried Moroccan mint or a tea mixture.
Source:
IG Dinkel, Judith Gmür-Stalder