PureSpelt vanilla flan
for 8-12 slices, 1 baking form of 28-30 cm Ø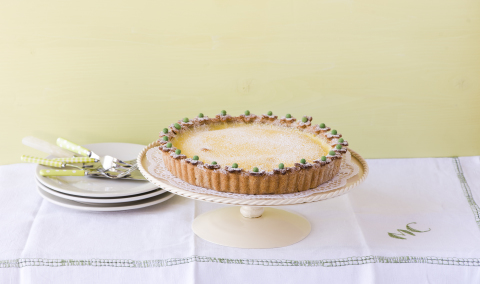 Butter for greasing the form
Dough
1 dl of milk
100 g of butter, cut into pieces
1 teaspoon of salt
250 g of PureSpelt wholemeal flour
75 g of sugar
50 g of ground hazelnuts
Possibly a little beaten egg white
Filling
50 g of PureSpelt white flour
175 g of sugar
1 tablespoon of vanilla sugar and the marrow scraped from 1 vanilla pod
2 dl of milk
2.5 dl of cream
5 eggs

Icing sugar and green sugar pearls for decoration
1
Dough: Boil the milk. Add the butter and stir the milk until the butter is melted. Add the salt, flour, sugar and hazelnuts and bind together to form a smooth dough.
2
Roll out the dough into a round form. Lay it into the buttered baking form and trim the edges, prick the dough base several times. Use the trimmed dough to cut out flower shapes as desired and using the egg white stick them around the edge of the pastry, leave in a cool place.
3
Filling: Mix the flour, sugar and vanilla marrow together with the milk. Add the cream and eggs, stir well and then pour into the pastry base.
Baking
Bake for 35-40 minutes in the lower half of an oven pre-heated to 180°C. Remove from the oven and allow it to cool in the baking form. Cut the flan into slices, decorate with icing sugar and sugar pearls and serve while fresh.
Information
It is delightful when served with a strawberry salad: Cut up 500 g of strawberries, mix together with 3-4 tablespoons of sugar, 2 tablespoons each of orange juice and lemon juice and a little pink pepper. Sprinkle with 2 tablespoons of chopped pistachio nuts before serving.
Source:
IG Dinkel, Judith Gmür-Stalder