PureSpelt strawberry roll
for 8-12 slices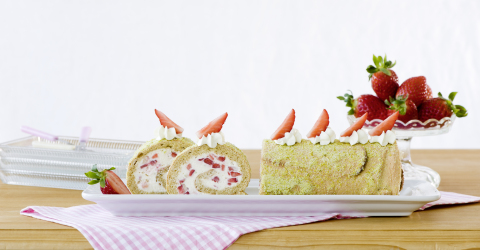 Baking paper
1 pastry bag with indented nozzle
Biscuit
4 egg whites
1 pinch of salt
100 g of sugar
1 teaspoon of vanilla sugar
4 egg yolks
90 g of PureSpelt whole grain flour
1 pinch of baking powder
Filling
200 g mascarpone
100 g of icing sugar
1 lime, grated peel and 1 tablespoon of juice
200 g of strawberries, cleaned, finely cubed
1.5 dl of cream, whipped stiff
Decoration
25 g pistachio nuts
50 g sugar
1 dl cream, whipped stiff
Quartered strawberries
1
Biscuit: Beat the egg whites with the salt until stiff; gradually add the sugar and the vanilla sugar, continue to beat until it is stiff and shiny. Briefly stir in the egg yolks. Carefully stir in the flour and baking powder. Spread the biscuit dough about 8-10 mm thick on a baking tray covered with baking paper to form a square. Bake for 5-7 minutes in the middle of an oven pre-heated to 220°C. Take the biscuit out of the oven immediately, slide it onto the work surface, cover it with aluminium foil and allow it to cool completely.
2
Filling: Mix the mascarpone and the icing sugar into a smooth paste. Add the grated lime peel and the lime juice. Stir in the strawberries. Carefully fold in the cream using a spatula.
3
Finely grind the pistachio nuts and the sugar in a grinder, spread out on a sheet of baking paper to the same size square as the biscuit. Drop the biscuit onto the ground nuts and sugar, peel off the top layer of baking paper. Spread the filling evenly over the whole of the biscuit, roll up the biscuit from one side into a tight roll. Wrap the roll in baking paper and leave in the fridge to cool for a short time.
4
Before serving use the pastry bag to decorate the roll with the whipped cream and add the quartered strawberries.
Source:
IG Dinkel, Judith Gmür-Stalder