PureSpelt Easter tart
for 8-12 slices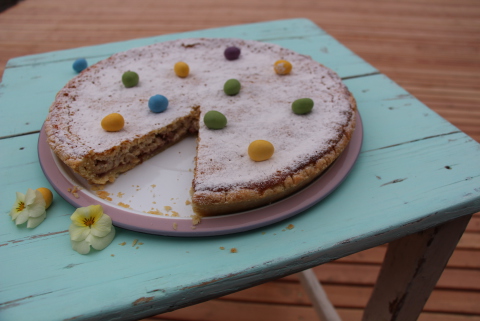 Dough
250 g of PureSpelt half-white or white flour
1 pinch of salt
3 tablespoons of sugar
125 g of butter, cold, cut into pieces
1 egg, beaten
2-3 tablespoons of cream according to taste
Filling
8 dl of milk
100 g of PureSpelt polished kernels (kernotto)
1 pinch of salt
3 eggs
125 g of raw sugar
2 teaspoon of vanilla sugar
A few Tonka beans, ground, according to taste
150 g of quark

150 g of strawberry or apricot jam

Icing sugar for dusting
Sugar or chocolate eggs for decoration
1
Dough: Mix together the flour and the sugar. Add the butter and using your hands work into a fine crumbly consistency. Add the egg and cream and bind it into a dough, do not knead. Wrap the dough in a plastic film and place in the refrigerator for 30 minutes.
2
Filling: Put the milk, PureSpelt polished kernals (kernotto) and salt into a sauté frying pan and bring to the boil. Cook for a further 40-50 minutes on a low heat until it is soft and has the consistency of a thick porridge-like mash, allow to cool.
3
On a lightly floured surface, roll out the dough into a round form. Butter a baking dish with a diameter of 28-30 cm, cover it with the dough. Prick the dough base several times using a fork and again place in the refrigerator to cool.
4
Mix together the eggs and the sugar until the mixture is light in colour and airy. Mix in the vanilla sugar, ground Tonka beans and quark. Carefully fold the kernel mash (kernotto) into the egg mixture. Spread the dough base with the jam and pour on the filling.
Baking
Bake the tart in the bottom half of an oven pre-heated to 180°C for 40-45 minutes. Remove from the oven and allow to cool. Just before serving decorate with the icing sugar and sugar or chocolate eggs.
Suggestion
According to personal taste, mix in 75 g of soaked raisons or finely diced apple into the filling before baking.
Source:
IG Dinkel, Judith Gmür-Stalder