PureSpelt lime cake
for 12 slices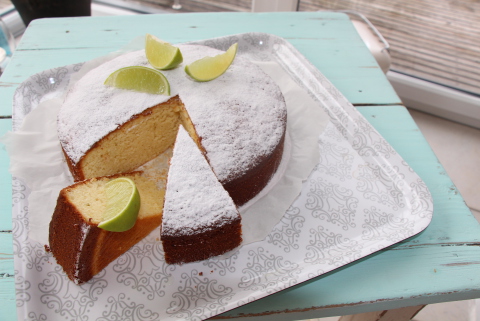 1 spring-form baking tin 22-24 Ø
Butter for the spring side, baking paper for the base

5 eggs
150 g of sugar
3 limes, grated rind and pressed juice
125 g of white chocolate, melted
200 g of peeled almonds, ground
100 g of PureSpelt white flour
1 1/2 teaspoons of baking powder

Icing sugar for dusting
Lime wedges for decoration and drizzling
1
Beat one egg, sugar and the grated lime peel using a whisk, either by hand or using a food processor, until the mixture is very light in colour and airy.
2
Mix in the melted chocolate until the mixture is well blended. Mix together the ground almonds, flour and baking powder and add to the mixture. Add one half of the lime juice and briefly mix it in. Pour the cake mixture into the prepared spring-form baking tin and smooth off.
Baking
Bake the cake for 40-45 minutes in the bottom half of an oven pre-heated to 180°C. Remove the cake from the oven, drizzle with the remaining lime juice, cover and place in the refrigerator overnight.
3
Prior to serving, dust the cake with icing sugar, decorate with the lime wedges. Before eating, use a lime wedge to drizzle the slice of cake with lime juice.
Suggestions
Bake the cake 1-2 days in advance so that it has time to develop its full aroma. Instead of limes use lemons or oranges.
Source:
IG Dinkel, Judith Gmür-Stalder