PureSpelt apple tartlets
Preparation time: approx. 30 minutes
Baking or cooking time: approx. 30 minutes
for 8-10 tartlets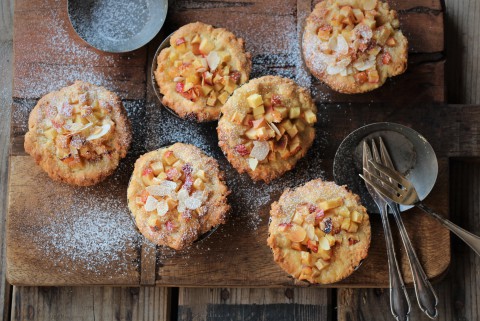 Dough
75 g of butter, soft
100 g of raw sugar
1 pinch of salt
2 eggs
The grated rind of 1 lemon
175 g of PureSpelt white flour
1/2 teaspoon of baking powder
Filling
1-2 apples, approx. 200 g, with the core removed and finely diced
2-3 tablespoons of raw sugar
1 teaspoon of lemon juice
1 tablespoon of butter, melted
2 tablespoons of almond flakes
Icing sugar for sprinkling
1
Stir the butter until peaks are formed. Add the raw sugar, salt and eggs and continue stirring until the mixture turns light in color. Stir in the lemon zest. Mix together the flour and the baking powder and stir the mixture into the dough. Distribute the dough evenly in the buttered moulds. Using the back of a spoon, pull the dough up to about 1/2 cm from the edge and form a hollow in the middle.
2
For the filling, mix together all the ingredients. Distribute the filling evenly into the hollows in the tartlets.
3
Baking: Bake for 25-30 minutes in the middle of an oven preheated to 180°C. Remove from the oven and allow to cool slightly before removing from the moulds. Sprinkle with icing sugar as desired directly before serving.
What else do you need?
8-10 moulds of 8-9 cm in diameter.
Butter for greasing the moulds.
Source:
IG Dinkel, Judith Gmür-Stalder