PureSpelt ginger cake
Preparation time: approx. 40 minutes
Baking or cooking time: approx. 45 minutes
For a cake baking tray 26 centimeters in length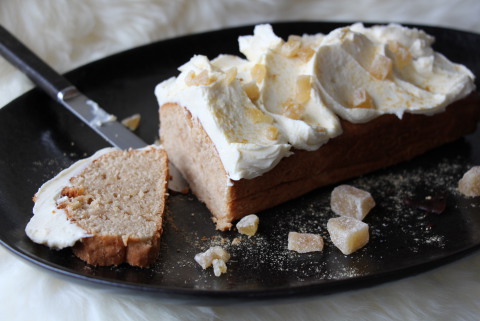 Dough
125 g of butter
100 g of unrefined sugar
3 eggs
1/2 teaspoon each of ground ginger and cinnamon
A little nutmeg
250 g of PureSpelt white or half-white flour
1 teaspoon of baking powder
1 1/2 dl apple juice or cider
Topping
150 g of double cream cheese, e.g. mascarpone or Philadelphia
4-5 teaspoons of icing sugar
1/2 teaspoon of ginger, ground or freshly grated
2 tablespoons of candied ginger, finely diced
A little ginger, ground, for sprinkling according to taste
1
For the dough, whisk the butter until it is frothy. Add the unrefined sugar and eggs then continue to beat until the mixture turns a light color. Mix in the spices, flour and baking powder and then mix in the apple juice or cider. Transfer the dough to the baking tray lined with baking paper and smooth it out.
Baking
Bake the cake for 40-45 minutes in the lower half of an oven preheated to 180°C. Remove from the oven and place the cake on a grid to cool.
2
To prepare the topping, mix together all the ingredients up to and including the ginger. Spread the mixture evenly over the cake, sprinkle the topping with the diced ginger and with a little ginger powder according to taste.
Suggestions
- Suitably covered and stored in a refrigerator, the cake can be kept for 4-5 days.
- Instead of topping the whole of the cake, slices of cake can be spread with spiced cream cheese individually to meet varied tastes.
Source:
IG Dinkel, Judith Gmür-Stalder