PureSpelt pear tart
Preliminary time: approx. 2 hours
Preparation time: approx. 40 minutes
Baking or cooking time: approx. 35 minutes
For one round baking tin of approx. 30 cm diameter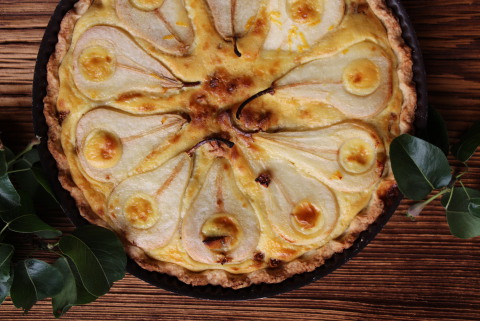 Dough
250 g of PureSpelt white flour
125 g of salted butter, cut into pieces
3 tablespoons of sugar
3-4 tablespoons of water
Filling
6 ripe pears, peeled, halved and with the core removed; if desired with the stem still attached
A little lemon juice
4 dried figs, finely chopped
Topping
2.5 dl cream
1 organic orange, grated peel
1/2 teaspoon of cardamom, crushed or grated
3 eggs
4 tablespoon of sugar
A few drops of lemon juice
1
For the dough, use your hands to mix together the flour and the butter to form a fine crumbly mixture. Mix in the sugar. Add the water and fold in to form a smooth dough; do not knead. Wrap in cling foil and store in a refrigertor for 1-2 hours.
2
Roll out the dough on a lightly floured surface to the size of the baking tin. Lay the dough in the pre-buttered baking tin. Use a fork to prick the base in several places.
3
Lay the pear halves onto the dough base. Brush the pears with lemon juice. Spread the chopped figs evenly over the pears.
4
For the topping, mix together all the ingredients and pour evenly over the base.
Baking
Bake the tart for 30-35 minutes on the lowest shelf of an oven preheated to 200°C. Serve luke warm or cold.
Source:
IG Dinkel, Judith Gmür-Stalder