PureSpelt chocolate muffins
Preparation time: approx. 30 minutes
Baking or cooking time: approx. 25 minutes
for 12-15 muffins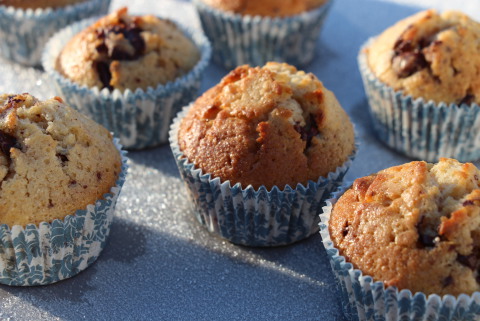 225 g of PureSpelt brown flour
1/2 teaspoon of baking powder
150 g of sugar
1 pinch of salt
150 g of butter, melted
3 eggs
1 dl of milk
50 g each of white, light and dark chocolate, diced
1
Mix together the PureSpelt brown flour, baking powder, sugar and salt in a mixing bowl. Stir in the butter, eggs and milk. Add the liquid and chocolate to the flour and mix them well together. Transfer the dough into 12-15 paper muffin forms or into a well buttered muffin baking tray.
Baking
Bake for 20-25 minutes in the middle of an oven pre-heated to 180°C.
Suggestion
Directly prior to serving the cooled muffins, garnish each with a blob of crème fraîche and chocolate swirls.
Source:
IG Dinkel, Judith Gmür-Stalder