PureSpelt sweet chestnut mousse cake
Preparation time: approx. 50 minutes
Baking or cooking time: approx. 25 minutes
for one springform baking tin of 24 cm diameter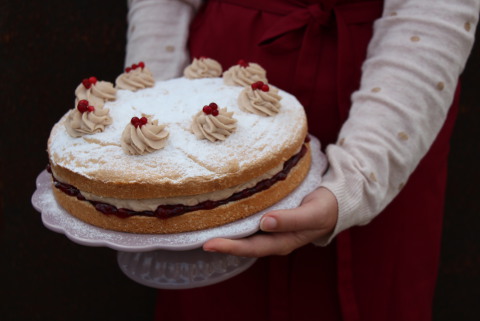 Sponge cake
4 egg yolks
100 g of sugar
1 pinch of salt
2 tablespoons of hot water
125 g of PureSpelt white flour
4 egg whites, beaten stiff
Filling
250 g of cranberries
100 g of preserving sugar
1/2 teaspoon of lemon juice
440 g f deep frozen sweet chestnut puree, defrosted
1-2 tablespoon of cherry liquor (kirsch), according to taste
0.5 dl of liquid cream
2 dl cream, beaten until stiff
Icing sugar for dusting
1
For the biscuit, beat together the egg yolks, the sugar, salt and water until the mixture is fluffy and turns very light in color. Sieve in the flour. Carefully fold in the egg whites until the mixture is smooth. Line the springform baking tin with baking paper and pour the mixture into the tin.
Baking
Bake for 25-30 minutes in the middle of an oven preheated to 180°C. Remove from the oven, allow to cool and then remove the sponge from the springform. Cut the sponge cake crossways to form two equally thick halves.
2
For the Filling, mix together in a pan the cranberries, preserving sugar and the lemon and bring to the boil, leave to simmer for approx. 5 minutes and then leave to cool. Keep a few cranberries for garnishing. Mix together the sweet chestnut puree, cherry liquor (kirsch) and the cream to form a smooth mixture. Carefully fold in the whipped cream in 2-3 portions. Place the cake base on a cake dish. Evenly spread the base with the cranberries. Pour on approximately 3/4 of the filling and carefully smooth it evenly over the cranberries. Place the top half of the cake onto the filling and press down lightly. Cover the cake and place in the refrigerator for at least 2 hours. Just before serving, pour the remainder of the filling into an icing bag with a serrated nozzle. Dust the cake with icing sugar, decorate it with the sweet chestnut filling and the cranberries and then serve immediately.
Suggestions
Instead of cranberries use blackcurrants or raspberries. Or instead of fresh berries, use deep frozen berries or berries from the jar.
Source:
IG Dinkel, Judith Gmür-Stalder