PureSpelt coconut hearts (vegan)
for 12 hearts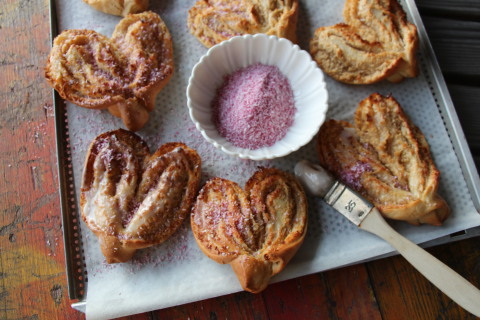 Baking paper for the baking tray
Yeast dough
300 g of PureSpelt half-white or white flour
1/2 teaspoon of salt
2 tablespoons of raw sugar or coconut blossom sugar
50 g coconut oil
20 g of yeast
Approx. 1.5 dl of coconut milk
Filling
150 g of coconut flakes
4 tablespoons of raw sugar or coconut blossom sugar
1 lime, grated peel and juice
Approx. 2 dl of coconut milk
Glazing
150 g icing sugar
2 1/2 to 3 tablespoons of lime juice
Coconut flakes, if desired coloured red using food colouring, for sprinkling
1
Yeast dough: Mix together the flour, salt and sugar. Add the coconut oil, yeast and coconut milk and briefly knead to form a dough. Cover the bowl and allow the dough to rise to twice its original volume.
2
Filling: Mix together all the ingredients to form a soft mixture.
3
Divide the dough into 12 equal portions. Roll out each portion to form a disc of 15-18 cm diameter. Spread each with 2-3 tablespoons of filling, roll up and form into the shape of a horseshoe. Use a knife to cut through the horseshoe so that the ends at the bottom still remain attached. Fold open the horseshoe and lay the on the baking paper lined baking tray so that a heart shape is formed. Once again briefly allow to rise.
Baking
Bake for 15-20 minutes in the middle of an oven preheated to 180°C.
4
Glazing: Stir together the icing sugar and the lime juice. Brush the glazing onto the hearts while they are still warm, sprinkle with coconut flakes and allow to dry.
Suggestions
Decorate the hearts with a red glazing and give them as a present on Valentine's day. The hearts are irresistibly good if eaten immediately while fresh. Coconut butter and coconut oil can be purchased in drug stores with a health food department or in health food shops.
Source:
IG Dinkel, Judith Gmür-Stalder