PureSpelt cream tart with pre-ferment
for 2 tarts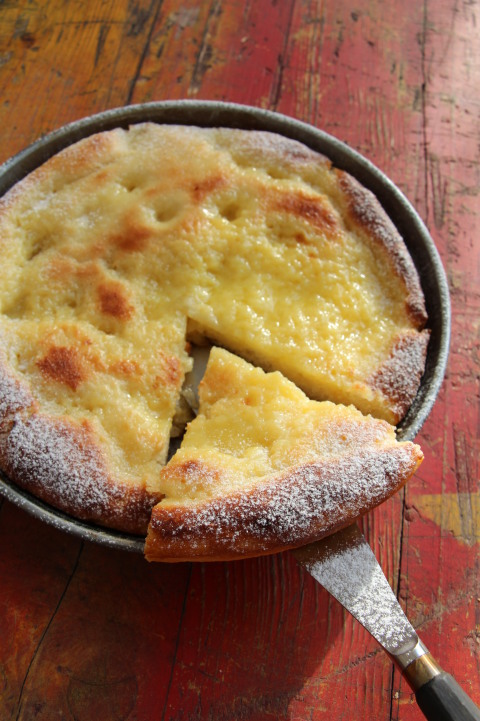 Butter for greasing the baking tins (24-26 cm diameter)
Pre-ferment
1.7 dl of water
130 g of PureSpelt half-white flour
Leavened dough
300 g of PureSpelt half-white or white flour
1/2 teaspoon of salt
2 tablespoons of sugar
50 g of butter, cut into pieces
20 g of yeast, crumbled
Approx. 2 dl of milk
Filling
200 g of double cream
1 egg yolk
75 g of sugar
A little sugar for sprinkling

Icing sugar for dusting
1
Pre-ferment: Boil the water and while it is still boiling hot, stir it into the flour. Continue stirring until the mixture is smooth and compact. Allow the pre-ferment to cool. Cover and leave in the refrigerator over night.
2
Leavened dough: Mix together the flour, salt and sugar. Add the butter, yeast, milk and the pre-ferment, briefly knead to form a smooth dough. Cover and allow to stand until it has doubled in volume. Punch down the dough and again leave it to rise.
3
Divide the dough into two equal parts, roll out each part to form a circle and lay in the buttered baking tins. Cover and again leave to rise for a further 30-40 minutes.
4
Filling: Stir together the double cream, egg yolk and sugar. Using your fingers press dips into the risen dough, pour over the filling and sprinkle with sugar.
Baking
Bake for 30-35 minutes in an oven preheated to 200°C until it is light brown. Allow to cool, dust with icing sugar according to taste and serve while still fresh.
Source:
IG Dinkel, Judith Gmür-Stalder