PureSpelt mini power tarts
for approx. 24 tarts, a 24-cup mini muffin tray, paper cake cups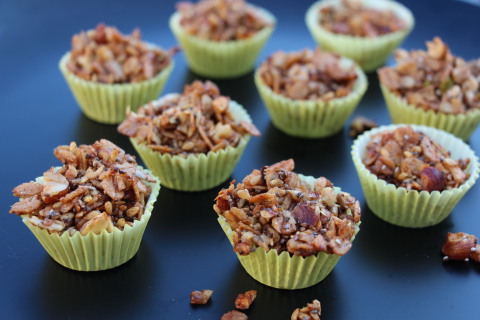 175 g of butter or coconut oil
175 g of honey or agave syrup
2 teaspoons of cinnamon
1 knife tip of vanilla powder (1/8 of a teaspoon)
A little cardamom
200 g of PureSpelt flakes
50 g of chia seeds
25 g each of linseed and sunflower seeds
150 g of mixed nuts, chopped, roasted, cooled
1
Melt the butter or the coconut oil in a pan. Stir in the honey or agave syrup, cinnamon, vanilla and cardamom. Add the PureSpelt flakes, seeds and nuts and mix well. Place the paper cake cups in the mini muffin tray and fill each cup with the mixture, pressing down well.
Baking
Bake for 15-20 minutes in the middle of an oven preheated to 150°C. Remove from the oven and allow to cool until they are set.
Suggestions
The PureSpelt power tarts can be stored for up to 3-4 weeks in a cool dry place. Spread the mixture 1 cm thick on baking paper, press down well and bake for 15-20 minutes. Allow to cool and cut into suitably sized pieces.
Source:
IG Dinkel, Judith Gmür-Stalder