PureSpelt mini tarts with berries
for 12 tarts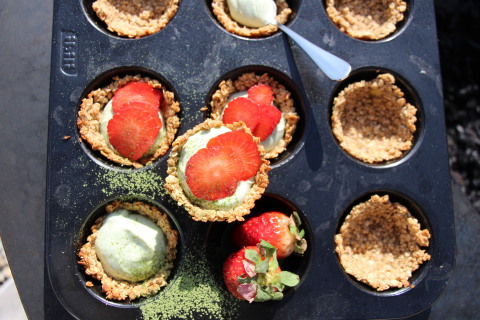 A 12-cup muffin baking tray
Butter or oil for greasing the cups
Mini tart bases
2 ripe bananas, approx. 180 g, skinned
75 g of honey or agave syrup, liquid
1 knife tip of vanilla pulp (1/8 of a teaspoon)
125 g of PureSpelt flakes
Filling
Approx. 300 g of quark
2-3 tablespoons of honey or agave syrup
1-2 tablespoons of PureSpelt grass powder, according to taste
A few drops of lemon juice

Strawberries or mixed berries and PureSpelt grass powder for garnishing
1
Mini tarts: Using a fork, finely mash the bananas and then mix together with the honey or agave syrup and vanilla pulp. Stir in the PureSpelt flakes. Distribute the mixture evenly in the prepared backing tray, using your fingers firmly press down the mixture in the cups and form a raised edge.
Baking
Bake the mini tart bases in the middle of an oven preheated to 175°C for 12-15 minutes. Turn off the oven and with the door slightly open allow to cool and dry.
2
Filling: Mix together all the ingredients and distribute evenly in the mini tart bases. Garnish with berries and PureSpelt grass powder.
Suggestions
Instead of the PureSpelt grass powder use 1 tablespoon of finely chopped mint, basil or lemon balm. Depending on the season, use other types of fruit. Replace the quark with soy yoghurt (vegan).
Source:
IG Dinkel, Judith Gmür-Stalder