PureSpelt gingerbread loaf
for one 26 cm cake form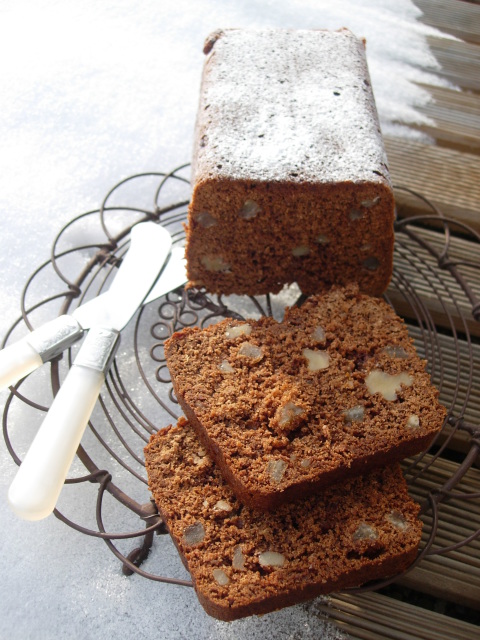 150 g of concentrated pear juice
75 g of raw sugar
1 dl of cream
50 g of butter
1 teaspoon of baking soda
1 pinch of salt
125 g of PureSpelt whole grain flour
125 g of PureSpelt white flour
The grated peel of 1 orange
2 tablespoons of gingerbread spices
1 tablespoon of cocoa powder
50 g of candied orange, chopped
50 g of walnuts, chopped

Icing sugar for dusting
1
Mix all the ingredients up to and including the butter and warm the mixture, do not allow to boil. Dissolve the baking powder and the salt into the mixture.
2
Mix the flour and the remaining ingredients together. Pour in the concentrated pear juice and butter mixture into the flour and mix to form a dough. Line the cake form with baking powder and fill it with the dough.
Baking
Bake for 50-55 minutes in the lower half of an oven pre-heated to 160°C. Remove from the oven and allow to cool. Dust with icing sugar before serving.
Suggestion
Suitably packed, the gingerbread loaf can be stored in a cool place for 2-3 weeks.
Source:
IG Dinkel, Judith Gmür-Stalder