PureSpelt fig tart
Preliminary time: approx. 1 hour
Preparation time: approx. 45 minutes
Baking or cooking time: approx. 35 minutes
for 8 slices, 1 rectangular baking tray 11 x 35 cm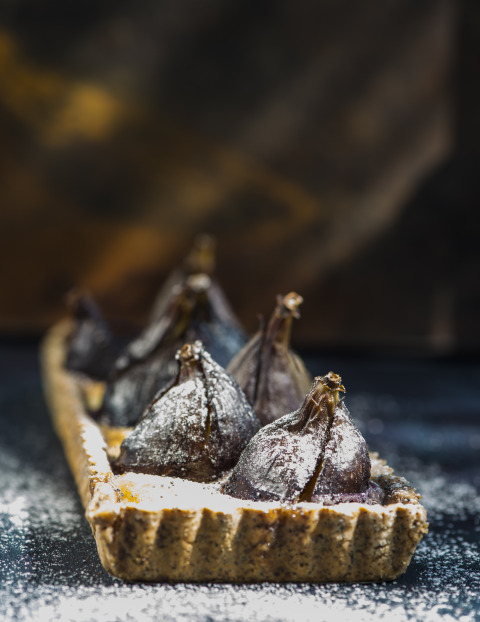 Dough
175 g of white or half-white PureSpelt flour
25 g of ground poppy seeds
1 teaspoon of cinnamon powder
1/4 teaspoon of salt
80 g of butter cut into cubes, cpld
1 tablespoon of balsamic vinegar
2-3 tablespoons of cold water
Topping
75 g of mascarpone cream cheese
0.75 dl of milk
1 fig
1 tablespoon of PureSpelt white or half-white flour
3-4 tablespoons of sugar
1 teaspoon of vanilla sugar or a small amount of ground tonka beans
Topping
6 to 8 fresh figs
Icing sugar and poppy seeds for decoration
1
Dough: Mix together the flour, ground poppy seeds, cinnamon, and salt; rub together with the butter to form a crumbly mixture. Add the balsamic vinegar and water and knead to form a smooth dough. Roll out the dough so that it fits the baking tray, butter the baking tray and lay the dough on the baking tray. Prick the dough base several times using a fork. Cover and place in a fridge to cool for approximately 1 hour.
2
Topping: Mix together all the ingredients and pour the mixture over the dough base.
3
Filling: Cut a cross into the tip of each of the figs and press them into the topping.
4
Place the fig tart in the lower half of an oven preheated to 180°C and bake for between 30 to 35 minutes. Allow the tart to cool slightly and then sprinkle the tart with icing sugar and poppy seeds before serving.
Suggestion
Depending on the season during which you are preparing this dish, use other fruits instead of figs.
A recipe from the book "UrDinkel - Alles vom Blech". Can now be accessed in the
Shop
.
Source:
IG Dinkel, Judith Gmür-Stalder