PureSpelt apple crumble cake
Preliminary time: approx. 1 hour
Preparation time: approx. 40 minutes
Baking or cooking time: approx. 50 minutes
1 springform baking tin of 24-26 cm diameter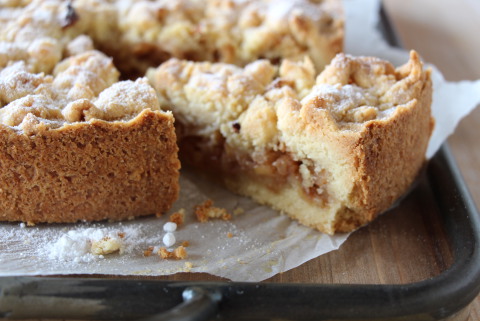 Dough
600 g of PureSpelt half-white flour
200 g of sugar
1/2 teaspoon of salt
400 g of butter, cold, cut into pieces
Possibly a little cold water
Filling
750 g of apple, peeled and cored, coarsely grated or chopped
2-3 tablespoons of sugar
2 teaspoons of vanilla sugar
1 teaspoon of cinammon
1 lemon, pressed juice
A little icing sugar for dusting
Dough
Mix together the flour, sugar and salt. Add the butter and using your hands rub to form a fine crumbly mixture, if necessary add a little cold water. Briefly knead the dough, wrap it in kitchen film and place in a refrigerator to cool for 30-60 minutes.
Filling
Mix together all the ingredients.
Forming
Roll out 2/3 of the dough on a lightly floured surface until it is approximately 5 mm thick. Lay the dough in the springform baking tin to cover the base and the walls. Spread the filling evenly over the base. Take the remainder of the dough, crumble it and sprinkle it over the apple filling.
Baking
Bake the PureSpelt apple crumble cake for 50-60 minutes in the lower half of an oven preheated to 180°C. Remove from the oven and allow to cool. Sprinkle the crumble cake with icing sugar immediately prior to serving.
Source:
IG Dinkel, Judith Gmür-Stalder