Fluffy orange PureSpelt cupcakes
Preparation time: approx. 30 minutes
Baking or cooking time: approx. 15 minutes
For approx. 10 small cupcake moulds which hold around 0.5 dl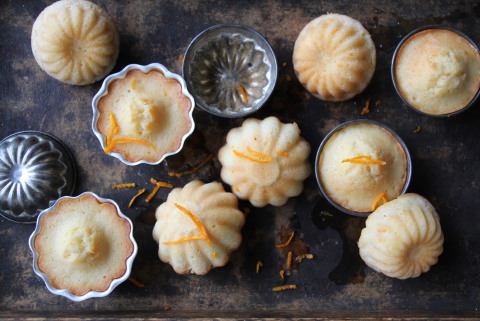 Dough
75 g of butter, cut into pieces
125 g of sugar
2 eggs
1/2 an organic orange, finely grated peel and 2 tablespoons of orange juice
125 g of PureSpelt half-white or white flour
1 pinch of baking powder
Glaze
1 dl of orange juice
2-3 tablespoons of icing sugar
Orange zests for decoration according to taste
1
Dough: Melt the butter. Stir in the sugar, eggs, orange peel and orange juice. Add the flour and the baking powder, briefly stir them in until the mixture is smooth and distribute evenly in the pre-buttered cup-cake moulds.
Baking
Bake the cupcakes for 15 to 20 minutes in the middle of an oven preheated to 180°C; remove from the oven.
2
Glaze: Stir together the orange juice and icing sugar, dribble onto the cupcakes while they are still warm and allow to steep for a short time. Remove the cupcakes from the moulds while they are still warm, decorate according to taste and serve.
Source:
IG Dinkel, Judith Gmür-Stalder