PureSpelt lemon meringue tart
for 1 baking tin approx. 22 x 22 cm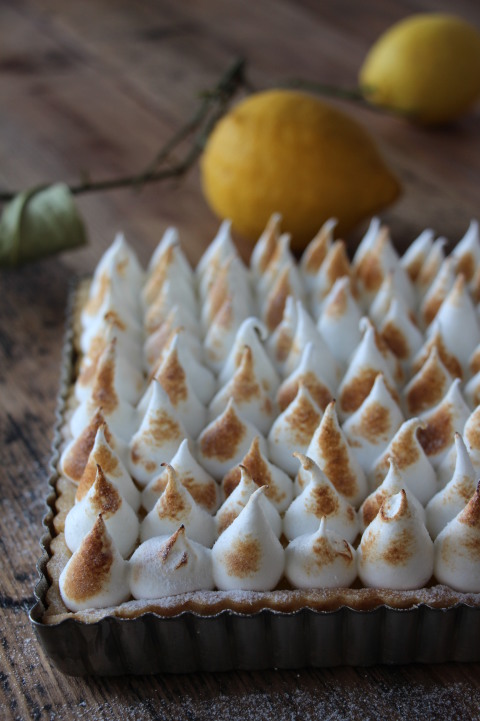 Backing paper for the base
Butter for the baking tin
Baking weights (ceramic baking beans)
Short pastry
200 g of PureSpelt half-white flour (light coloured)
¼ teaspoon of salt
2 tablespoons of sugar
100 g of butter, cold, cut into pieces and crumbled
Approx. 0.5 dl of water, cold
Filling
150 g of sugar
3 Tablespoons of corn flour
3 egg yolks
2 eggs
3-4 lemons, grated peel of one lemon and approx. 1.25 dl of lemon juice
1 pinch of salt
125 g of butter, cut into pieces
Meringue
3 egg whites
1 pinch of salt
100 g of sugar

Icing sugar for dusting
1
Short pastry: Mix together the salt and the sugar. Add the finely crumbled butter. Add the water and fold the mixture together to form a dough, do not knead. Lay the dough in the buttered baking tin and form an edge 2-3 cm high. Place the tray in the fridge to cool for 30-60 minutes.
Blind baking
Cover the dough base with baking paper and weigh down the paper using ceramic baking beans. Bake the base in the lower half of an oven pre-heated to 180°C for 25-30 minutes. Remove the baking paper and beans and continue to bake the short pastry for a further 10-15 minutes, remove from the oven and allow to cool.
2
Filling: Place all the ingredients up to and including the salt in a saucepan and stir using a whisk. While continually stirring with the whisk, heat up the mixture on a medium heat until it thickens; do not allow to boil. Remove the cream from the heat and mix in the butter while stirring continuously. Spread the mixture onto the short pastry base and cool in the fridge for 1-2 hours until it has solidified.
3
Shortly before serving, whip the egg whites together with the salt until they are stiff. Gradually sprinkle in the sugar while continuing to beat the mixture until it is firm and shiny. Spread the meringue mixture evenly onto the tart (or possibly use a piping bag with a flat nozzle to peak the meringue). Lightly brown the meringue by placing it briefly under the oven grill or using a hand-held torch and dust with icing sugar.
Source:
IG Dinkel, Judith Gmür-Stalder