PureSpelt eierschecke (layer cake)
ffor 1 baking tray approx. 30 x 33 cm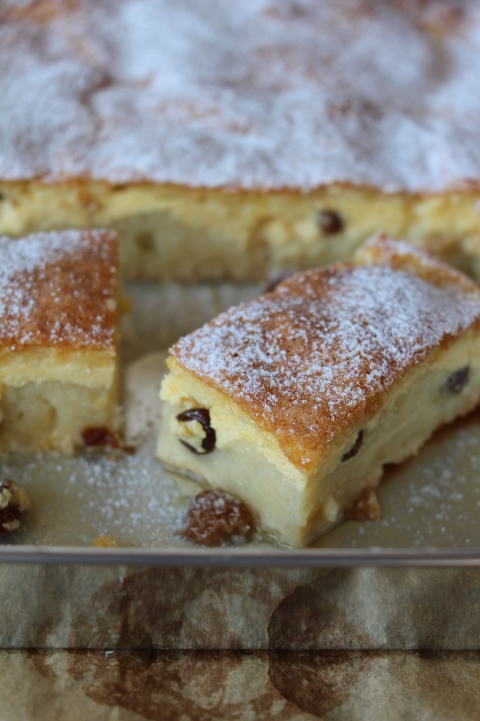 Baking paper for lining the baking tray
Yeast dough
350 g of PureSpelt white flour
50 g of sugar
¼ teaspoon of salt
20 g of yeast, crumbled
2 dl of milk
1 egg
50 g of butter, melted and cooled
Topping
1 packet of vanilla pudding powder for cooking
5 dl of milk
75 g of raisins
3 tablespoons of orange juice or rum
500 g of quark
Egg cream
4 egg whites
1 pinch of salt
125 g of butter, soft
125 g of sugar
4 egg yolks
1 vanilla pod, with seeds removed
6 tablespoons of PureSpelt white flour
1
Dough: Mix together the flour, sugar and salt. Stir in the yeast, milk, egg and butter and knead the mixture to form a soft dough. Cover the bowl and leave it to stand at room temperature until the dough has doubled in volume.
2
Topping: Mix the vanilla pudding powder with the milk and cook as instructed on the packet; allow to cool. Put the raisins in water, cover the bowl and soak until they are soft. Stir the pudding until it is smooth and then mix in the quark and softened raisins.
3
Spread the dough flat in the buttered, baking-paper-lined baking tray. Cover the tray and leave the dough to rise for a further 30-60 minutes.
4
Spread the vanilla pudding and raisin topping evenly over the yeast dough base, place in the fridge to cool.
5
Egg cream: Beat the egg whites together with the salt until they are stiff. Stir the butter, sugar and the egg yolks together until the mixture turns light. Add half of the egg white, sieve in the flour and carefully fold it in using a rubber spatula. Now carefully fold in the rest of the egg white and then spread the egg cream onto the vanilla pudding topping.
Baking
Bake for 35-40 minutes in the lower half of an oven preheated to 180°C. Remove the "eierschecke" (layer cake) from the oven, allow to cool and then cut into squares and sprinkle with icing sugar before serving.
Source:
IG Dinkel, Judith Gmür-Stalder