PureSpelt red beet chocolate tartlets
Preparation time: approx. 30 minutes
Baking or cooking time: approx. 20 minutes
For approximately 16 tartlets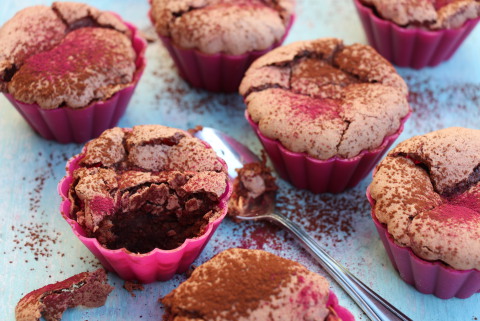 Dough
The white of 4 eggs
1 pinch of salt
175 g of sugar
The yolks of 4 eggs
200 g of raw red beet (beetroot), peeled and finely grated
200 g of dark chocolate, melted
1 teaspoon of cinnamon
1 teaspoon of vanilla sugar, scraped marrow
100 g of peeled almonds, grated
100 g of PureSpelt white flour
1/2 teaspoon of baking powder
Decoration
A little cacao and red beet powder
1
To prepare the dough, beat the egg whites with the salt until stiff. Trickle in the sugar and continue beating until the mixture shines. Stir in the egg yolks only briefly. Add the red beet, chocolate, cinnamon and vanilla sugar. Sieve in the flour and baking powder, carefully fold in and distribute the dough into the silicone moulds.
2
Baking: Bake the tartlets for 15-20 minutes in the middle of an oven preheated to 180°C, remove and allow to cool.
3
Decoration: Directly before serving, dust the tartlets with cacao and red beet powder
Suggestion
Red beet powder is available in health food shops or from speciality shops.
Source:
IG Dinkel, Judith Gmür-Stalder