PureSpelt naked cake
Preparation time: approx. 1 1/4 hours
Baking or cooking time: approx. 1 1/2 hours
For 1 springform baking tin of 20-22 cm Ø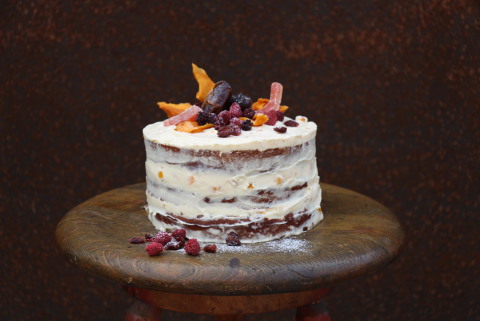 Dough
400 g of PureSpelt, half-white or wholemeal flour
1 teaspoon of baking soda
1 tablespoon of gingerbread spices
2 tablespoons of cocoa powder
1 pinch of salt
200 g of sugar
3 tablespoons of honey
2.5 dl of full cream
300 g of cream yoghurt, unflavored
Filling
250 g of mascarpone
150 g of cream quark
3-4 tablespoons of icing sugar
1/2 an organic orange, grated peel and juice
50 g of candied orange peel, chopped
3 gelatine leaves, soaked in cold water
2 dl of full cream, beaten stiff
Decoration
Approx. 100 g of mixed dried fruits, e.g. mango, dates, cranberries, etc.
A little icing sugar for dusting
1
Dough: Mix together the flour and the other ingredients up to and including the sugar. Stir together the honey, cream and the yoghurt and then mix together briefly with the dry ingredients. Pour 1/3 of the dough into the prepared springform mould, smooth it down and bake in the middle of an oven preheated to 180°C for 25-30 minutes. Remove the springform from the oven and allow the cake to cool down on a cake rack. Proceed in the same way with the remainder of the dough so that finally a total of 3 cakes are baked.
2
Filling: Mix together the mascarpone, quark and the icing sugar. Stir in the grated orange peel, orange juice and chopped candied oranges. Dissolve the well squeezed gelatine in a warm water bath according to instructions. Stir in 2-3 tablespoons of the mascarpone mixture and then stir this back into the main mixture. Allow this to cool until the mixture is slightly firm at the edge. Stir the mixture until smooth. Carefully fold in the whipped cream.
3
Assembling: If necessary, trim the three cakes so that their edges are straight and the cakes are the same size. Place one of the cakes on the cake plate. Smooth 1/3 of the filling evenly on it. Place the 2nd cake layer on top of the first and again spread with 1/3 of the filling. Finish with the 3rd cake and then brush all around the edges with the rest of the filling and leave to set for 2-3 hours in a cool place.
4
Decorate the cake directly prior to serving and dust with icing sugar.
Source:
IG Dinkel, Judith Gmür-Stalder