PureSpelt donuts with ginger cream
Preliminary time: Leave to rise for 3-4 hours or overnight
Preparation time: approx. 1 hour
For 8-12 doughnuts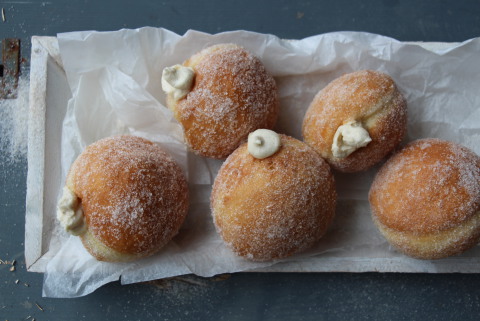 Yeast dough
250 g PureSpelt white or semi-white flour
1/4 tabelespoon of salt
2 tabelespoons of sugar
15 g of yeast, crumbled
1 dl of milk
1 egg yolk
50 g of butter, cut into pieces
1 l of deep-frying oil
Ginger creme (filling)
200 g of Mascarpone
2-3 cm of ginger, peeled, finely grated or 1 teaspoon ginger powder
50 g of icing sugar
1 sachet of vanilla sugar
Coating
Approx. 75 g of sugar
1-2 teaspoons of ginger powder
1
Yeast dough: Mix the flour together with the salt and sugar. Mix the yeast with the milk and add to the flour together with the egg yolk and butter. Briefly knead until it forms a soft dough. Cover and leave to rise for 3-4 hours or overnight in a cool place, punching down 2-3 times at intervals.
2
For the ginger cream, stir together all the ingredients until smooth. Place the filling in a piping bag fitted with a smooth spout and keep cool until ready to fill.
3
Divide the dough into 8-12 portions, form each into a ball and place on a floured kitchen towel. Cover and leave to rise for 30-40 minutes.
4
Heat the frying oil to approx. 170°C in a frying pan or deep fryer. Add the dough balls to the oil in portions of 3-4 balls and fry until light brown all over. Remove the donuts from the oil using a wire mesh ladle, drain well and leave to cool on a cake grid lined with baking paper.
5
Coating and filling: Mix together the sugar and the ginger powder and roll each doughnut in the mixture until coated. Using the prepared piping bag, fill the donuts with ginger cream. Enjoy while still fresh.
Suggestions
Instead of ginger powder use cinnamon or cardamom.
If you don't have a piping bag, cut the donuts in half and fill them with ginger cream, jam, chocolate spread or lemon curd etc.
Source:
IG Dinkel, Judith Gmür-Stalder